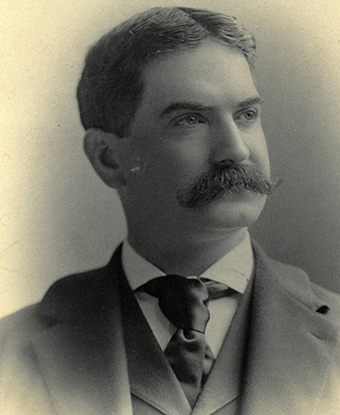 Significance:
Moses Cone rose from immigrant roots to become a leading industrialist during America's Gilded Age
Moses Cone rose from immigrant roots to become a leading industrialist during America's Gilded Age.
The story of the Cone family begins with Moses' father, Herman Kahn, who immigrated to America from Bavaria, Germany in 1846, when he was 17 years old. Herman first settled in Richmond, Virginia, and Americanized his name from Kahn to Cone. After a few years he relocated to Jonesboro, Tennessee, where he opened a retail grocery store. He married Helen Guggenheimer, who, like he, was of German Jewish heritage. The eldest of their thirteen children, Moses, was born in Jonesboro, Tennessee on June 29, 1857. 
In 1870, Herman Cone moved his family to Baltimore, Maryland seeking better economic opportunities following the Civil War. In Baltimore, he opened a wholesale grocery. Moses began his career in his father's business. Moses and his brother Caesar, worked as travelling salesman for their father, and eventually became partners in the business, H. Cone and Sons.
Travelling throughout the South for the family business, Moses and Caesar developed strong ties with company stores in the region's numerous textile mills. In 1891, the brothers started their own business, Cone Export & Commission Company, which sold textile products from smaller, independent southern mills to a wider market. They charged a 5 percent commission on these sales transactions. 
Expanding their textile business further, Moses and Caesar opened Proximity Manufacturing Company in Greensboro, North Carolina in 1895. This cotton mill, which produced denim fabric, was named for its closeness—or proximity—to the raw materials needed for manufacturing cotton textiles, and to the railway lines required for transportation. 
As their business continued to grow, the brothers opened and purchased additional mills, eventually becoming the leading makers of high-quality denim, corduroy, and flannel. During Moses' lifetime, the brothers' mills produced one third of the world's supply of denim fabric, earning Moses the nickname, the "Denim King."
Moses Cone married Bertha Lindau on February 15, 1888. Their economic success enabled the couple to develop Flat Top Manor, a country estate located in the cool and healthful air of the mountains in Blowing Rock, North Carolina. It was to become a testament to the wealth and influence attained by Moses Cone and his family.
Moses' vision for the estate was influenced by his great regard for the natural landscape. He purchased the first piece of land in Blowing Rock in 1892 and eventually acquired nearly 3,600 acres for his estate. Following the example of other Gilded Age industrialists, Moses sought to build a country refuge where he and Bertha could relax from the stress of their business and reconnect with nature.
Construction of the family home began in 1899 and was completed in early 1901. While other wealthy men were busy building French-style chateaus and homes reminiscent of European estates, Moses and Bertha modeled their home on the American past, building a relatively modest home in the Beaux-Arts style. It may have been a conscious expression of the couple's desire to distance themselves from their German Jewish immigrant roots and be seen as "American."
Flat Top Manor was a designed as summer home where Moses and Bertha could enjoy the mountains and entertain guests. The couple spent winters in Baltimore, Maryland. The manor house was large compared to most American homes, containing about 14,000 square feet of living space on three floors. Its 23 rooms included 11 bedrooms, 7 bathrooms, a billiard room, music room, and library. Shady porches, leaded glass windows, and 11 fireplaces graced the house.
The house had all the modern amenities available in a rural location in America. This included telephones, a servants' call system, indoor plumbing with cold and hot running water, a central wood-fired heating system, and a state-of-the-art carbide gas lighting system. Electricity was run to the house in 1927, about 25 years after it was built.
A staff of African American servants worked for the family inside the house. They included cooks, laundry maids, chambermaids, parlor maids, a butler and in later years a chauffeur. These staff members lived in two cottages located behind the manor house.
Recreational facilities outside the house included a bowling alley, tennis court, and formal croquet lawn. But the crown jewel of the estate was an extensive system of carriage roads that Moses and Bertha designed. Totaling 25 miles, these roads were used for both the pleasure of the family and for maintaining the large estate. The Cones also built three lakes on their property, which were stocked with bass or trout. The largest was Bass Lake—which is the centerpiece of the beautiful view from the manor house.
Moses Cone considered himself to be a gentleman farmer. He established agricultural enterprises on the estate in hopes that Flat Top Manor would eventually become financially self sufficient. He directed the planting of commercial apple orchards and maintained herds of sheep and beef cows on the estate. Bertha later established a small dairy operation on the farm. Thirty-two local families who worked in the orchards and farm operations lived in simple cottages scattered around the estate. 
While many land barons kept their estates private, Moses Cone chose to open the grounds of Flat Top Manor to the local community—opening the gates at 8:00 AM each morning and closing them at 6:00 PM each evening. People were welcome to walk or ride horses on the carriage trails and explore his estate, though restrictions were placed on picking flowers or hunting on the property.
In 1906, Moses and Bertha took a year-long trip around the world. The trip began in Europe and ended in Asia. While on this trip, Moses developed health problems, including chest pains and indigestion. After returning to the United States in 1907, Moses was evaluated at John Hopkins Hospital in Baltimore and was diagnosed with heart problems.
Moses died unexpectedly on December 8, 1908 as a result of heart disease. He was just 51 years old. Moses was buried on his estate in the family cemetery, at a site which he had selected during his lifetime.
Bertha Cone outlived her husband by 39 years. She took over management of Flat Top Manor after his death and proved herself to be a very competent manager of the estate, continuing to fulfill the dreams that Moses had for his beloved Flat Top Manor. During this time, she also received an annual income based on her husband's co-ownership of the Cone business.
Flat Top Manor remained Bertha's summer home for the remainder of her life. She was often joined by her two sisters, Clementine and Sophie, and other family members during her summers at the estate.
Bertha died at Flat Top Manor on June 8, 1947 at the age of 89. The couple had no children, so in accordance with an indenture made by the family in 1911, funds from the estate were used to build the Moses H. Cone Memorial Hospital in Greensboro, North Carolina, home to the family's textile mills. Construction of the hospital began in 1949 and the facility opened to the public in 1953.
Ownership of Flat Top Manor was also transferred to the Moses H. Cone Memorial Hospital, which was charged with operating the estate as a "public pleasuring ground"--essentially a free public park. Shortly thereafter, the hospital donated Flat Top Manor to the National Park Service to become a part of the Blue Ridge Parkway.
Today Flat Top Manor is preserved as the Moses H. Cone Memorial Park. You can visit Flat Top Manor, located near Blowing Rock, NC, at Milepost 294 on the Blue Ridge Parkway. 
Last updated: April 20, 2020