Trail Maintenance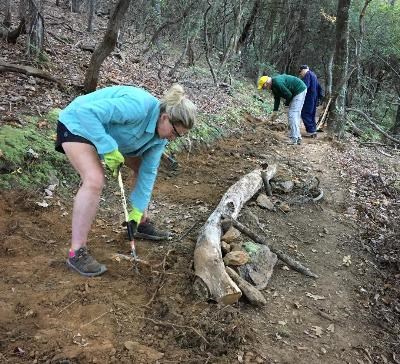 Who Maintains the Trails?

Volunteers are vital to the maintenance of trails on the Blue Ridge Parkway. In fact, many of the parkway's 369 miles of trails are maintained through partnerships. Dedicated trail volunteers with partner organizations help make sure that trails are sustainable for generations to come.

Trail maintenance can be difficult depending on the terrain and weather, but it can be very rewarding for trail maintainers who complete a section and leave it in much better condition than when they started. Over time, these maintained trail areas will continue to prosper from their efforts!

Trail maintenance tasks include but are not limited to:
Cutting and setting log or stone steps
Moving stones into place to create gargoyles and stone steps which prevent hikers from leaving the trail
Cutting brush and trees away from trails using various types of equipment
Cleaning water bars of leafy debris to move water off the trail
What is a Trail Gargoyle?
A gargoyle, or gargoyling the trail, means that you place a large or "ugly" rock or log on either, or both, sides of stone steps. They are called gargoyles because, like the denizens of the rooflines of medieval cathedrals, they may not be pretty to look at, but they serve as guards. Trail gargoyles prevent the plants and soil adjacent to the trail from being trampled and destroyed. They encourage hikers to stick to the steps by making the banks more difficult to climb than the stairs. Something considered ugly is so useful!
Partners in Trail Volunteerism
The Carolina Mountain Club (CMC) is an organization of hikers and trail maintainers. The CMC is instrumental in the maintenance of 130 miles of the Mountains-to-Sea Trail that parallels and crosses much of the southern end of the parkway. This adopted section of the Mountains-to-Sea Trail goes from the Heintooga Round Bottom Road (milepost 458.2) to the Mount Mitchell State Park area (milepost 355.4). Visit their website to learn more about the Carolina Mountain Club and ways to volunteer with them.

Friends of the Mountains-to-Sea-Trail volunteers help maintain the long distance trail, including a 90 mile stretch that follows the Blue Ridge Parkway from Beacon Heights (milepost 305.2) to Devil's Garden Overlook (milepost 235.7). Crew leaders host trail work days to accomplish much needed maintenance. Visit the Friends of the Mountains-to-Sea Trail website to learn how to get involved.

The Appalachian Trail, which stretches over 2,000 miles from Georgia to Maine, closely follows stretches of the parkway in Virginia. Trail volunteers with the Appalachian Trail Conservancy maintain over 90 miles of the long distance trail through this stretch. Visit the Appalachian Trail Conservancy website to learn more about volunteering.
Additional Assistance with Trail Maintenance
There are also non-profit organizations that will help the Blue Ridge Parkway when they can! In the fall of 2019, several crews from the Conservation Corps North Carolina (CCNC) worked to restore sections of the Shut-In Trail near Mt. Pisgah (milepost 408). With their efforts, several miles of the historic trail first created by George Vanderbilt to ride from the Biltmore to his hunting lodge were repaired.
Written by Ethan Crump and Julie Lukert
Trail Safety

Follow these tips in order to have a safe and enjoyable hiking experience.

Leave No Trace

Learn how to respect the environment and be considerate of others with these principles.

Trail Management & Maintenance

Park staff consider many factors when they plan trail maintenance.
Last updated: January 25, 2021