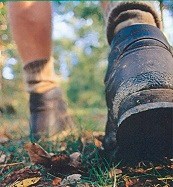 Your safety depends on your own good judgement, adequate preparation, and constant attention:
Let a responsible person know where you are headed and when you plan to return.

Hike with another person. Keep your hiking party together. Always keep children in your sight when hiking--do not allow them to get ahead of you or fall behind.

Stay on designated trails to avoid ticks and snakes.

Always be aware of your surroundings! Bears may be encountered on trails. Read Bear Safety to learn what to do if you see a bear.
Check the current weather forecast before hitting the trail and be prepared for changing conditions.

Be aware of any approaching weather systems and avoid ridgetops during thunderstorms.

Do not rely on technology to save you. Cell phones do not work in many locations along the Parkway and GPS is sometimes unreliable.

Carry a flashlight or headlamp--even on a dayhike. If you have trouble on the trail, darkness may fall before you can finish your hike.

Take adequate water--minimum 2 quarts per person per day.

Carry a small first aid kit.

Wear shoes or boots that provide good ankle support.

Avoid hypothermia (the dangerous lowering of body temperature) by keeping dry. Avoid cotton clothing. Dress in layers that can be easily removed or added as you heat up or cool down. Always carry a wind-resistant jacket and rain gear-even on sunny days!

Do not leave any valuables in your car where they can be seen by others.

Store your valuables out of sight and lock your cars before heading out on the trails.

If you have an emergency and have cell phone access, call 911. Tell the operator that you are on the Blue Ridge Parkway and what trail you are on. Be prepared to give the operator a thorough description of the problem. If you do not have cell phone access, send other hikers to get help.
.
The following factors often result in hiking emergencies:
Failure to plan and prepare
Failure to carry adequate drinking water
Inadequate footwear or clothing
Lack of fitness level for type of terrain or length of hike
Impaired or poor judgement, sometimes induced by fatigue, exhaustion, or hypothermia
Failure to let family and/or friends know of your specific route and return time
Failure to keep your hiking party together