Winter Activities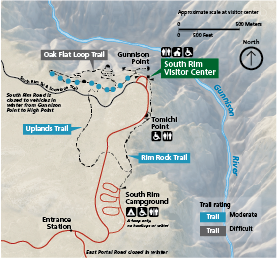 NOTE: Drinking water is not available in the park during winter.

Winter at Black Canyon
Tomichi Point and Gunnison Point overlooks are available, as well as the South Rim Visitor Center, and one loop of the campground. Some portions of the park such as East Portal Road, North Rim Road and much of the South Rim Scenic Drive are closed to vehicles in winter (see below). Hiking trails and overlooks may be icy. Depending on current conditions, traction devices for your boots can be a good idea.

Winter Ranger Programs
Depending on snow conditions, January to mid-March is a great time to join a ranger for some rim top snowshoeing! Park rangers offer guided snowshoe programs among the oaks, open meadows, and along the canyon rim of the Black Canyon. Geology talks are also offered daily. Check the calendar for program times.

Cross Country Skiing
In winter, the South Rim Drive is closed to vehicles beyond Gunnison Point. Rangers groom the remainder of the road for crosscountry skiing (skate and classic) and snowshoeing. This winter road becomes the South Rim Ski and Snowshoe trail. It is 6 miles (one way), and allows access to more overlooks. Park at the South Rim Visitor Center. Cross country skis can be rented or purchased in local communities. Check the current conditions page for snow and grooming updates.
Snowshoe Trekking
Beginners can get used to snowshoes on the South Rim Ski and Snowshoe Trail. The upper part of the Oak Flat Loop Trail is a good place for intermediate snowshoers. However, the lower part of the Oak Flat Loop Trail drops steeply down approximately 400 feet into the canyon and is particularly difficult in the winter. If you decide to do the lower portion of the trail, consider snowshoeing it in a clockwise direction (as displayed on the park map) as the descent will be primarily on switchbacks and the very steep ascent has no switchbacks. Rim Rock Trail is best snowshoed when there has been a lot of new snow (otherwise, snowshoes may be damaged on rocks).
Please be courteous to other trail users by not snowshoeing or walking in the ski tracks or the flat area groomed for skate skiing along the South Rim Drive. Dogs are not permitted along the South Rim Drive when the road is groomed as a ski trail.

Snowshoes are not available for loan at the park, but can be rented or purchased in local communities. When rangers are providing guided tours, park snowshoes may be borrowed just for the formal program.

Winter Backcountry Camping
Camping along the closed South Rim Drive is permitted beyond Pulpit Rock Overlook. All wilderness regulations, including no wood fires, apply. A free wilderness use permit is required.
Permit information »

Winter Survival
'Tis the season to be extra careful. Irregular weather, lack of experience, or carelessness can turn a nice outing into a fight for survival. The following easy steps can help you make yours a safe, fun-filled adventure.
Wear adequate clothing. Wool and synthetics will keep you warmer than cotton. Hats, mittens, and extra layers are a must.
Be prepared. When possible, travel with a companion. Tell someone where you are going and when to expect you back.
Check the weather forecast and the snow and ice conditions where you plan to go.
Together with the bare essentials like water and food, bring sunglasses and sunscreen, first aid kit, map and compass.
Hypothermia is a constant threat to people in the outdoors. Knowing the symptoms and what to do can save someone's life. Symptoms can range from uncontrolled shivering to drowsiness and loss of consciousness. When someone shows one or more symptoms you should:
Get the patient to a dry, sheltered place.
Remove wet clothing and replace with dry, warm clothing and/or blankets.
If the patient is awake, slowly give warm non-alcoholic drinks.
Transport to a medical facility as soon as possible.