Join a Ranger Guided Snowshoe Walk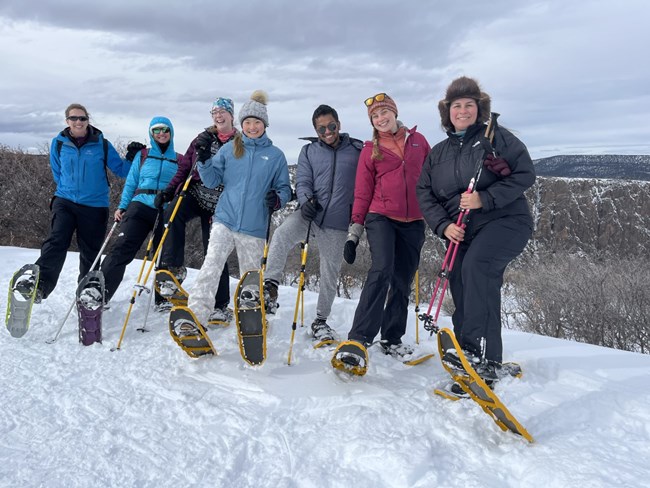 Snowshoe Walk
Saturdays and Sundays at 11 am (90 minutes)
January to March 5
Join us for an introduction to snowshoeing, as part of a winter ranger program about Black Canyon. Snowshoe with a ranger among the oaks, open meadows and along the canyon rim of the Black Canyon. No experience necessary to participate. Snowshoes are available to use, free of charge, for these programs. Reservations recommended (see below). Program may be changed to a talk or canceled if conditions are not acceptable.
Getting Ready for a Snowshoe Walk
Ranger-led snowshoe walks can be considered "moderately strenuous" but are open to all skill levels (Beginners are welcome!).
Reservations are strongly reccomended due to limited equipment supplies. Please contact the park by email; reservations open a week prior. Groups of 6 or more and school groups, please contact the park at least two weeks prior to see if we can accommodate your group.
Appropriate clothing is essential; this includes water-resistant hiking boots or snow boots, layered clothing, and water/wind resistant outer layers, hats, and gloves. Sunscreen and sunglasses are recommended. Water resistant hiking boots or snow boots are required.
Ranger-led snowshoe programs may or may not follow a trail. The exact route can vary with snow, weather conditions, and participant skill level. The program time is generally 90 minutes and the distance travelled is about one mile. However, be prepared to stay outside in winter conditions for up to 2 hours.
Participants must have a baseline fitness level that allows them to snowshoe approximately one mile over hilly terrain at 8,000 feet of elevation. One mile of snowshoeing is more strenuous than a typical hike in the park.
All snowshoe programs are conducted by National Park Service park rangers and volunteers.
Snowshoes are provided for free to program participants. Please arrive 15 minutes early to start getting your equipment on.
Snowshoe programs may be cancelled at the last minute due to poor weather or snow conditions.
Park at the South Rim Visitor Center and meet at the start of the South Rim Ski and Snowshoe Trail 15 minutes before the program. Park entrance fees apply.
Last updated: March 3, 2023