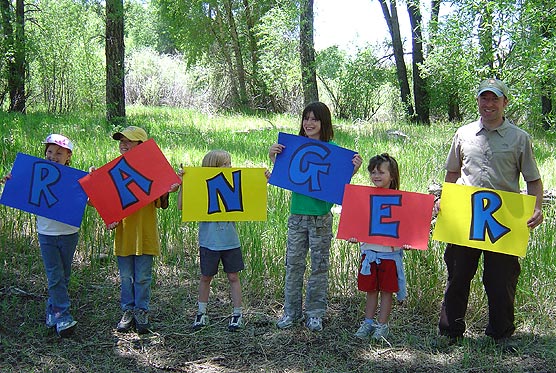 News Release Date:
September 5, 2007
Contact: Susanna Ausema, (970) 641-2337 x203
Giggling with excitement, several third and fourth grade students pull on knee-high rubber boots and step bravely into the cold water of the Gunnison River in search of aquatic insects. These Colorado students are participating in the third annual Advanced Junior Ranger summer camp at Black Canyon of the Gunnison National Park and Curecanti National Recreation Area. 
Throughout this seven week program, the Advanced Junior Rangers conduct experiments, create geologic models, hike on the canyon rim, participate in Leave No Trace activities, use GPS units to find scavenger hunt locations and track animals using radio telemetry equipment. One third grader commented that "last week I got to make a bug out of play-dough and help it survive by giving it adaptations like wings and camouflage."
The children become immersed in nature during their weekly activities, which results in a feeling of appreciation for our National Parks. "I wish I could stay in the national park every day. It's so peaceful here and I'm always learning about cool things," continues the third grader. "I'm going to be an Advanced Junior Ranger next summer, too."
Local teachers have been supportive of the summer program, as the rangers incorporate math, language arts, physical education, art, and science into the program activities. Parents frequently comment that if not for this program, their children might be indoors during the summer months, playing video games and forgetting what they've learned during the school year.
As Secretary Dirk Kempthorne has said, "Children need to be inspired to leave their iPods to see a real pod of whales. Children should take a break from their Podcasts to cast a fly for a rainbow trout. Children should interrupt their channel surfing to see the Channel Islands."  The Advanced Junior Ranger Program celebrates this philosophy, and brings youth into a wild environment to explore, discover, and make connections between the national parks and their own lives.
A highlight for many of the participants is the end-of-season family campout and awards ceremony. At this event, eager children proudly display their shiny badges, pointing their families in the direction of their exciting nature discoveries. It's an inspiring sight to witness a group of youth pledging to protect our National Park sites and the natural and cultural resources, after having fully immersed themselves in the parks throughout the summer. The Advanced Junior Rangers are truly creating a bright future for the National Park Service.