Hiking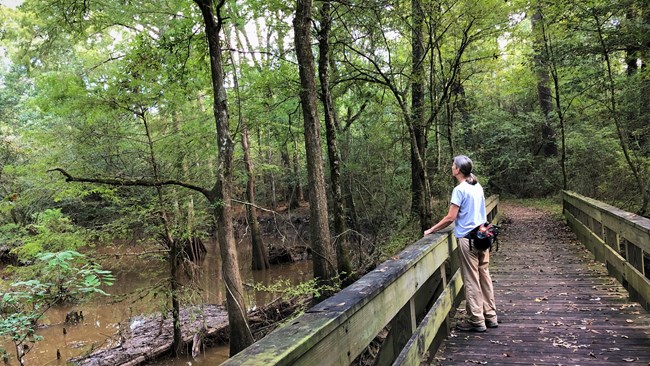 Big Thicket Trails
Approximately 40 miles of trails wind through Big Thicket National Preserve, providing hikers many options for walking distances and experiences. Trails of varying lengths, from 0.3 miles to 18 miles roundtrip, lead through diverse plant communities, from bogs of carnivorous plants to stands of towering longleaf pines.

Regardless of the trail you choose, remember to go slowly and enjoy the smells, the sounds, and the small wonders of the Big Thicket.
Plan Your Hike
Hiking Trails

Get a list of all trails with maps, directions, and descriptions of each hike.

Places to Go

Learn about the units of Big Thicket National Preserve and the things to do in each.

Maps

Download park and trail maps for the Big Thicket.

Ranger Recommendations
Use the lists of interests, activities, and distances below to help you decide which trail is right for you. While you can see and do many of these things throughout the Big Thicket, these are the most popular and easily-accessible places to experience them.
Interests
Carnivorous Plants – Sundew Trail, Pitcher Plant Trail
Longleaf Pine Trees – Sundew Trail, Pitcher Plant Trail, Sandhill Loop Trail
Cypress Sloughs – Beaver Slide Trail, Cypress Loop of the Kirby Nature Trail
Wildflowers – Sundew Trail
Birds – Sundew Trail, Kirby Nature Trail, Birdwatchers Trail, headquarters area
Mushrooms – Kirby Nature Trail, Woodlands Trail
Biodiversity – Kirby Nature Trail, Turkey Creek Trail, Big Sandy Trail
Activities
Backpacking – Turkey Creek Trail, Big Sandy Trail
Biking – Big Sandy Trail (This is the ONLY trail open to biking)
Fishing – Village Creek via the Kirby Nature Trail; Birdwatchers Trail
Horseback Riding – Big Sandy Trail (This is the ONLY trail open to horseback riding)
Distances
Accessible Trails – Inner loop of the Sundew Trail; first quarter-mile of the PItcher Plant Trail to the pitcher plant bog
Short (1 to 1.5 miles) – Sundew Trail, Pitcher Plant Trail, Beech Woods Trail, Beaver Slide Trail
Moderate (1.5 to 5.5 miles) – Kirby Nature Trail and Sandhill Loop Trails, Woodlands Trail, parts of the Turkey Creek Trail
Long (9 miles and up) – Turkey Creek Trail, Big Sandy Trail, Sandhill Loop via Turkey Creek Trail
Last updated: July 14, 2021