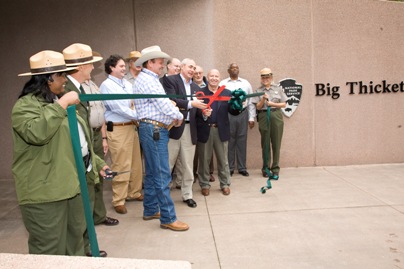 News Release Date:
October 14, 2009
Contact: Mary Kay Manning, (409) 951-6720
Contact: Chris Peapenburg, (409) 951-6802
On October 10, 2009, Big Thicket National Preserve and the Big Thicket Association (BTA) celebrated the 45th anniversary of the BTA, the 35th anniversary of the Preserve, and the grand opening of the new preserve headquarters. Preserve employees had been working in temporary offices after the old headquarters was damaged during Hurricane Rita in 2005.
Featured speakers were Congressman Kevin Brady of the 8th District of Texas in the U.S. House of Representatives, Associate Intermountain Regional Director John Wessels, and Maxine Johnston of the Big Thicket Association. Dr. Pete Gunter of the University of North Texas, Dale Kruse, President of the Thicket of Diversity, Dr. Carl Knight of Eastfield College, and Director Andy Jones of The Conservation Fund also spoke to the 300 persons in attendance.
The ribbon cutting ceremony was followed by a tour of the new preserve headquarters, a catered lunch, and entertainment by the Sabine Bluegrass band followed by the Alabama-Coushatta Tribe of Texas Dancers.