Centennial Challenge

Get out and explore YOUR Big South Fork! In celebration of the 100th birthday of the National Park Service, Big South Fork National River and Recreation Area is holding the Centennial Challenge.
From January 1, through December 3, 2016, participants will have a the opportunity to get out and experience the many unique cultural and natural features of this park along their 100-mile journeys.
This is a self-paced activity for visitors to hike, ride (mountain bike or equestrian), and/or paddle along this park's 500-mile multi-trail system, including 70+ miles of the Big South Fork River and its tributaries.
There will be a culminating program at Bandy Creek Visitor Center on December 10, 2016. At which time, park rangers will recognize both the youngest and oldest males and females who completed 100 miles along with the participant(s) who accomplished the challenge incorporating the most categories (hike, ride, etc.). All participants who completed the challenge will also have the opportunity to participate in a group photo at the event.
Participants are also highly encouraged to photograph their favorite places and memories along their journeys. Selected images will be printed for exhibition at the visitor center and may be displayed on the internet, and other venues.
GETTING STARTED
Download the Centennial Challenge
log sheet
, the honor system applies. As you accumulate miles, record them.
When completed, bring the log sheet and five photos to the Bandy Creek Visitor Center, and mail to:
Big South Fork National River & Recreation Area
4564 Leatherwood Road
Oneida, TN 37841
Attention: Centennial Challenge Coordinator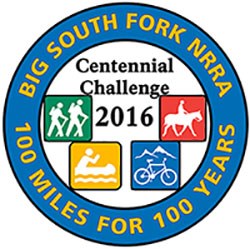 All finishers are eligible to receive the Centennial Challenge patch that was specially designed for this event.
This event is free and open to the public. For more information on how you can be involved in this event, please call the Bandy Creek Visitor Center at (423) 286-7275.
Last updated: April 9, 2021