Horseback Riding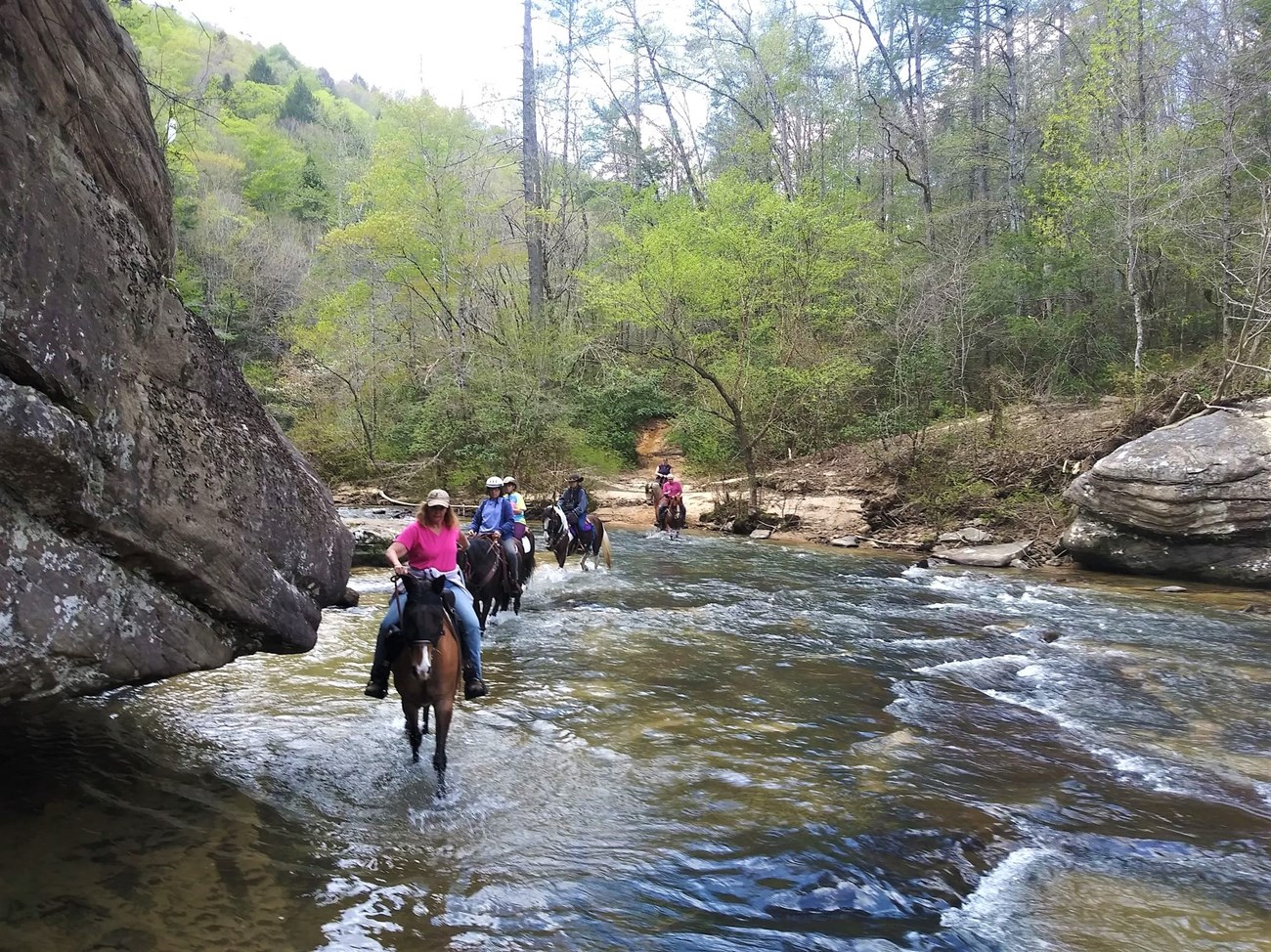 Horseback riding has become one of the most popular activities at Big South Fork. To provide access to many of the area's scenic features, there are over 212 miles of horse trails available throughout the Big South Fork. These horse trails are all signed and marked with a red blaze. The trails vary in both length and degree of difficulty. They range from short, easy day rides to long and strenuous loops that may take several days to complete. Due to the extensive network of trails, horseback riders are advised to purchase a Trails Illustrated map from either of the park visitor centers, Eastern National, a park concessionaire, or local area businesses.
Big South Fork has developed a new trail map depicting the authorized trail system as it currently exists on the ground which is nine detailed maps of all trail uses. Riders may also visit our itinerary page to download maps of the most popular routes.

In an effort to make the trail system more user friendly for the wide variety of users at Big South Fork National River and Recreation Area the park is implementing a trailhead and trail markings system.
Horse Health: Note that proof of a negative Coggins Test for Swamp Fever is required to bring horses into Big South Fork.

Horseback riding related facilities located in Big South Fork include:
Bandy Creek Camp Store & Stables, a concessions managed stables available for those who wish to board their horse while camping at the adjacent Bandy Creek Campground. Providing an easy connection to the area's extensive trail system.
Bandy Creek Campground has a total of 149 campsites: 98 trailer sites which offer water and electric hook-ups, 49 sites for tent camping, and two group camping loops with 19 sites in one loop and 16 sites in the other. All campsites include picnic tables, fire rings, and access to restrooms and hot-water showers. Bandy Creek Stables is located adjacent to the Bandy Creek Campground. Reserve your site today by visiting www.recreation.gov.
Station Camp Campground has 24 campsites that provide water and electrical hookups, tie outs for four horses, restrooms with showers and a dump station. The campground is open from April through October each year. Reserve your site today by visiting www.recreation.gov.
Bear Creek Horse Camp has 23 campsites that provide water and electrical hookups, tie outs for up to four horses per site, restrooms with hot water showers and a dump station. The campground is open from April through October each year. Reserve your site today by visiting www.recreation.gov.
Charit Creek Lodge, located in the Station Camp Creek drainage offers a full range of amenities including cabin and dormitory rentals, meals, restrooms and showers. Access to the remote lodge is by foot, bike or horse only. Stalls are available and riders are encouraged to book reservations well in advance. For further information visit Charit Creek online or call (865) 696-5611. .Email: charitcreeklodge@gmail.com


Last updated: June 3, 2023