Boat Groundings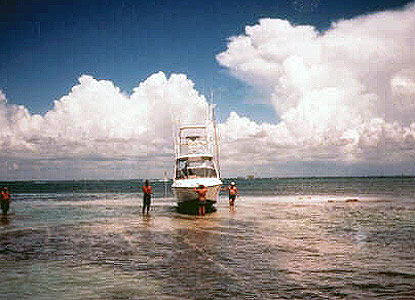 Below the crystal clear waters of Biscayne Bay lies an important and fragile world, the seagrass meadows. These communities are critically important to the health and vitality of the waters of Biscayne National Park and are considered one of the most productive ecosystems in the world. Seagrass meadows provide a protected nursery and foraging area for numerous marine species and their extensive root systems help stabilize sediments on the bay bottom, helping to keep the water clear.
Seagrasses are flowering marine plants with true roots, leaves and stems, akin to the grasses found in most lawns. They produce tiny flowers, spiny seeds and energy through photosynthesis and grow completely submerged.
The productivity of the seagrass meadows is extremely high. Seagrasses form dense mats on the bay bottom providing ideal grazing for manatees, sea turtles, sea urchins and some parrot fish. In addition, algae and small sponges grow on the leaves and provide forage for many other organisms. These areas are also a nursery for recreationally and commercially important shrimp, spiny lobster and many fish species.
One threat to the health of seagrass beds in Biscayne National Park is damage caused by grounded vessels. Park staff has recorded over 700 vessel groundings since 1995 and this number comprises only an estimated 10-20% of all groundings in the park. When a vessel runs aground the propellers normally cut or uproot seagrasses, leaving a scar. The damage can take years to recover and in areas of high currents, the seagrass may never grow back. The hundreds of prop scars running through local seagrass beds offer a graphic reminder of the extensive scope of the damage being done.
Attempting to "power off" using the boat's engine can destroy your engine by pulling sediment into your cooling system. In addition, attempting to power off blows large holes in the bay bottom. Powering off is also illegal and can subject you to severe fines and civil liability.
Also beneath the park's waters are the living coral reefs. The dramatic beauty and brightly colored fish that frequent these area garner most visitors' attention. However, they are just as fragile as the seagrass meadows and are also damaged by boat groundings. Even the hardbottom areas with little sediment are full of life, home to soft corals, sponges, and numerous other invertebrates (including the tasty spiny lobster).
The majority of the park's half million annual visitors are boaters. Without your help and care, the wonderful resources protected within the park will be lost.
To prevent damage to underwater resources and to your boat, come to the park prepared!
Learn how to read and use a nautical chart.
Refer to your chart prior to leaving the dock.
Know what the tides are. See Tide Predictions.
Learn how to use your electronic navigation equipment (GPS).
Learn how to read the water and wear polarized sunglasses. Water color indicates water depth and/or bottom conditions and polarized lenses reduce glare and improve visibility.
Always be sure to check the marine forecast prior to leaving the dock and watch the weather. Weather changes frequently; in restricted visibility, slow down and check your position.
If you are unsure of the situation, stop and refer to your chart.
For those who wish to improve their boating skills, free boating education classes are available to the public. The class is offered every three to four months depending on how many people have signed up for the courses.
The class is free for the general public and $50 for those taking it as a requirement.
Class topics include; park natural and cultural resources, boating safety, navigation rules, boat groundings, boater liability in federal parks, and how to get involved at Biscayne and Everglades National Parks.
The contact number for further information on the class is 305-230-1144 extension 041.
Spanish-language classes are scheduled as needed and according to interest (Spanish version of boating education class brochure).
Remember the Rhymes
Brown, brown, run aground!
Avoid brown areas! This color indicates that reef formations or seagrass beds are close to the surface.
White, white, you just might!
Use Caution! Sand bars and rubble areas may be much shallower than they appear.
Green, green, nice and clean!
Green waters are generally safe for shallow draft boats, larger deeper draft vessels should exercise caution.
Blue, blue, cruise on through!
Clear sailing in deep water areas.
OH NO! You ran aground! Now what?
STOP! Attempting to power off can cause significant damage to your vessel and to the living bottom communities. If you do run aground or if you venture into shallow water and start stirring up mud in your wake, STOP! Turn your motor OFF. Do not attempt to power off.
Trim your motor up.
Try to push or pole your boat off, following the route in.
Wait for high tide in order to drift free.
Call for commercial assistance on VHF Channel 16.