Threatened and Endangered Plants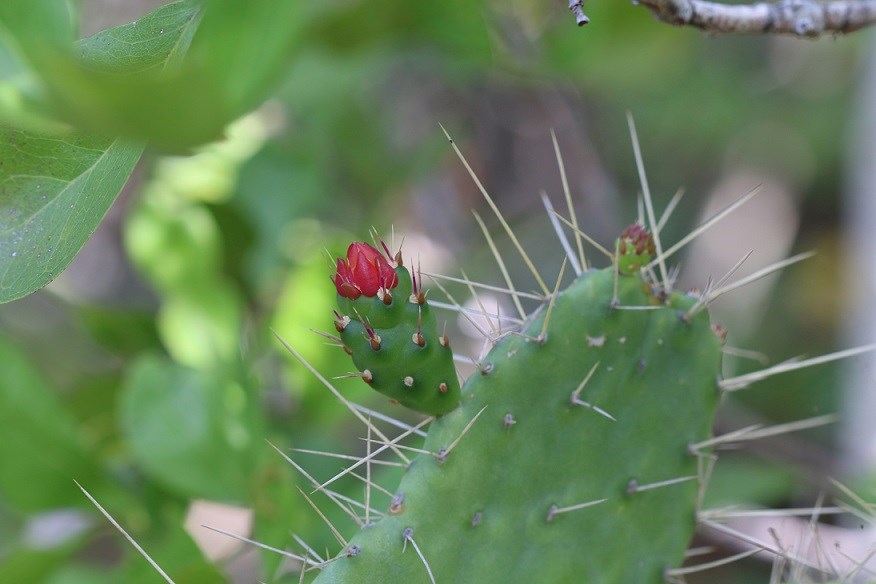 The following plants are listed as threatened or endangered, and are confirmed or suspected to be in the park. If you are lucky enough to observe any of then during your visit to the park, cherish the sighting but please do not harm the plant. Any interference with these plants is strictly prohibited.
The list below includes plants that are likely to be in the park. Visitors are encouraged to report their sightings here. Please provide as much information as possible such as date, location, number, size, species, and any photos.

Visit the park's endangered animal page, federal listing and state listing for more information on threatened and endangered species.
| | | |
| --- | --- | --- |
| Common Name(s) | Federal Classification Listing | State Classification Listing |
| Bahama ladder brake | - | Threatened |
| Banded wild-pine (Twisted airplant) | - | Threatened |
| Beach jacquemontia | Endangered | Endangered |
| Beach peanut | - | Endangered |
| Blacktorch | - | Threatened |
| Brown's Indian rosewood | - | Endangered |
| Butterflybush (Curacao bush) | - | Endangered |
| Caribbean princewood | - | Endangered |
| Cinnamon bark (Pepper cinnamon) | - | Endangered |
| Cinnecord | - | Endangered |
| Climbing vine fern | - | Endangered |
| Coffee colubrina (Greenheart) | - | Endangered |
| Coral pancium | - | Endangered |
| Darlingplum | - | Threatened |
| Dildoe cactus | - | Threatened |
| Dollar orchid | - | Endangered |
| Erect pricklypear | - | Threatened |
| Florida boxwood | - | Endangered |
| Florida Keys blackbead | - | Threatened |
| Florida mayten | - | Threatened |
| Giant wild-pine (Giant airplant) | - | Endangered |
| Golden leather fern | - | Threatened |
| Green thatch palm (Florida thatch palm) | - | Endangered |
| Guiana plum | - | Threatened |
| Havana greenbrier (Everglades greenbrier) | - | Threatened |
| Ironwood (Redberry stopper) | - | Endangered |
| Joewood | - | Threatened |
| Johnson's seagrass | Threatened | - |
| Lignumvitae | - | Endangered |
| Locustberry | - | Threatened |
| Mahogany mistletoe | - | Endangered |
| Manchineel | - | Endangered |
| Mangrove mallow (Swampbush) | - | Endangered |
| Marsh's dutchman's pipe | - | Endangered |
| Milkbark (Whitewood) | - | Endangered |
| Mullein nightshade | - | Threatened |
| Nakedwood (Soldierwood) | - | Endangered |
| Parasitic ghostplant | - | Endangered |
| Paurotis palm | - | Threatened |
| Pearlberry (Tearshrub) | - | Endangered |
| Pinepink | - | Threatened |
| Porter's sandmat | - | Endangered |
| Prickly applecactus | - | Endangered |
| Red stopper | - | Endangered |
| Reflexed wild-pine (Northern needleleaf) | - | Threatened |
| Sargent's cherry palm (Buccaneer palm) | - | Endangered |
| Satinleaf | - | Threatened |
| Sea lavender | - | Endangered |
| Semaphore cactus | Candidate | Endangered |
| Silver palm | - | Threatened |
| Silver thatch palm (Brittle thatch palm) | - | Endangered |
| Simpson's applecactus | - | Endangered |
| Smooth strongback (Bahama strongbark) | - | Endangered |
| Southern fogfruit | - | Endangered |
| Spicewood | - | Threatened |
| Stiff-leaved wild-pine (Cardinal airplant) | - | Endangered |
| Swartz's snoutbean | - | Endangered |
| Twindberry (Simpson's stopper) | - | Threatened |
| West Indian cock's comb | - | Endangered |
| West Indian mahogany | - | Threatened |
| West Indian trema (Pain-in-the-back) | - | Endangered |
| Whiteflower passionflower | - | Endangered |
| Wild cotton (upland cotton) | - | Endangered |
| Wild dilly | - | Threatened |
| Yellow nicker bean | - | Endangered |
Last updated: July 9, 2020