Science in Biscayne National Park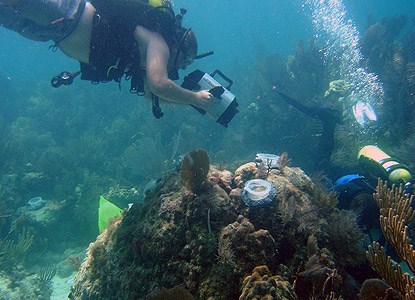 Science plays an integral role in the ability of the National Park Service to effectively preserve its resources — a charge of the National Park Service since its creation in 1916. Protection of natural and cultural resources for present and future generations requires active and informed management strategies. A lack of information about park flora, fauna, ecosystems, and their interrelationships can have devastating consequences. A rigorous increase in nonnative species, pollutant loading, and incompatible uses of resources in and around parks are just a few of the dynamic issues that resource managers must contend with in the 21st century. Science aids in the stewardship of resources by answering important questions:
What are parks protecting and preserving?
What is the condition of park resources?
How does the condition of our resources change over time?
What is the condition of resources outside of park boundaries that impact park resources?
What are the implications of these findings to parks and to the larger systems in which they reside?
What actions need to be taken for preserving resources?
How can this information be best communicated to the broader society?
Research conducted by park staff and the scientific community-at-large analyzes:
native and endangered species (examples are the Schaus swallowtail butterfly and Sargent's cherry palm)
nonnative species (Australian pine)
air and water quality (considering the park's proximity to areas of dense urban development)
critical habitats (including seagrass meadows, hardbottom communities and coral reefs).
Additionally, research is conducted on the park's cultural history, including prehistoric and historic, terrestrial and submerged archaeological sites. A comprehensive and academic science program, which includes both intra-park research and collaboration with non-Park Service entities will continue to provide the foundation which enables the effective stewardship of Biscayne's natural and cultural resources.
Last updated: April 14, 2015