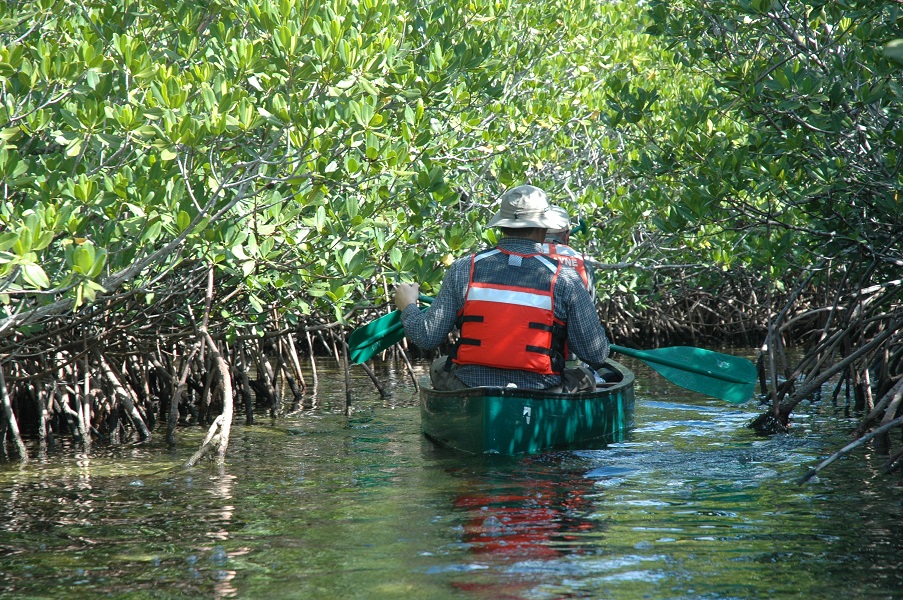 The watery mazes of mangrove forests provide habitat for tarpon and manatee alike. NPS image by Matt Johnson

The mangrove forests of Biscayne National Park are mysterious places that remind one of the jungles seen in old movies. From the water, unbroken lines of trees are visible with their beautiful, emerald leaves reaching over the water. The forest provides a seemingly impenetrable tangle of roots, arching from tree trunks in many directions. The park contains one of the longest continuous stretches of mangroves left on the Florida's East coast.
The word mangrove is used to describe several trees, not closely related to one another, that flourish in salty environments. Some are able to block salt from their roots while others secrete excess salt through their leaves, allowing them to thrive where other trees would die.
These mangroves, with their impenetrable root systems, help to keep park waters clean and clear. They slow water flow from the land into the bay and allow sediment to settle. Mangrove roots provide shelter for a host of marine organisms, especially the young and small. Tree branches provide breeding and nesting areas for birds including brown pelicans.
Leaves fall from mangrove branches year round. The leaves break down to become food for tiny marine organisms which, in turn, become food for larger organisms including commercially important species of fish, shrimp and lobster. Without healthy mangrove forests, Florida's vital recreational and commercial fisheries would drastically decline.
Three types of mangroves live along park shorelines and the fringes of islands. Starting from the water and working inland, red, black and then white mangroves are found.