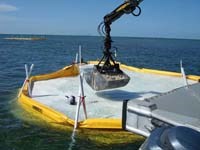 The Habitat Restoration Program works on restoring injuries to park resources.
Our main focus is on vessel grounding incidents that cause serious harm to fragile seagrass and coral reef habitats, though we also work on restoration of mangrove and hammock habitat in the park.
When a vessel grounding or other type of resource injury occurs, the site is mapped and injured resources are counted, measured, and photographed.
A restoration project that will help injured resources recover is then designed, based on the types of injuries involved.
Under the Park System Resource Protection Act, the responsible party may be required to pay for the costs of restoring the injured resources.
When the restoration work at a site is completed, staff monitors the site for several years to document recovery. Monitoring is important to ensure the site remains stable and to understand the rate at which the resources recover.