Seagrass Restoration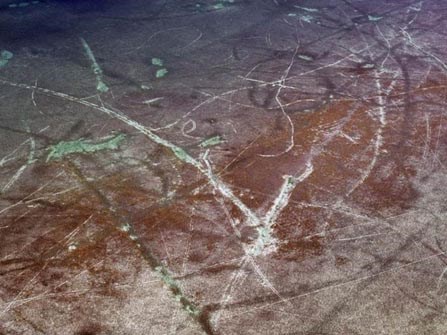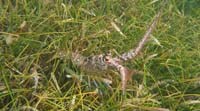 Seagrass meadows are found throughout the park, and are important in providing food and habitat for fish, invertebrates, manatees, and turtles. Seagrasses also help maintain water clarity and cycle nutrients.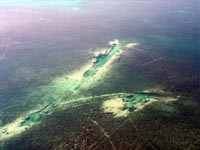 Just like the grass in your yard, seagrasses have belowground roots and rhizomes. The seagrass plants use these parts for stability and to exchange nutrients with the soil. Vessel groundings on seagrass shoals can cause serious damage, especially when the roots and rhizomes are destroyed.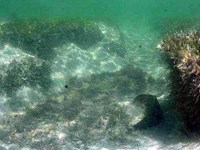 Vessel groundings create trenches and "blowholes", and when the soil and plants are excavated, the seagrasses have a hard time growing back. These injuries may take several years to recover! Unfortunately, many shallow shoals in Biscayne National Park are heavily impacted by vessel groundings.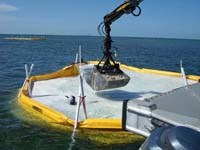 The park's Habitat Restoration Program conducts seagrass restoration at vessel grounding injuries, with the goal of accelerating recovery. Each year, the program tries to restore several grounding sites.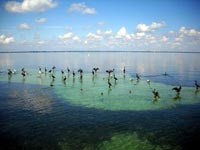 Commonly used restoration methods include filling excavations, applying fertilizer by using bird roosting stakes, and transplanting seagrasses. Restored sites are monitored for a period of several years to track recovery.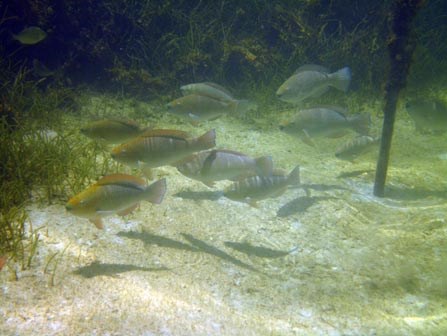 Last updated: April 14, 2015