The Joneses of Porgy Key: Life on Caesar Creek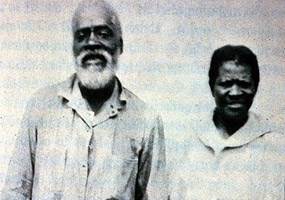 Life on Caesar Creek
After a prosperous nine-year stint as a caretaker and foreman, Israel Jones decided he was interested in expanding his horizons. So in 1897, Jones purchased Porgy Key, on the southern edge of Caesar Creek, from Fletcher Albury for $300, approximately $5 an acre. This is particularly remarkable because of the racial atmosphere in Dade County between 1896 and 1926. While there was an increase in the presence of black institutions and possibility for upward mobility, economic and political exploitation, racial segregation and lynching constrained the efforts of black families working to improve their quality of life.
Along with his ventures into real estate, Israel Jones developed a reputation for being a preacher and a philosopher. He became known as the "Pahson", which reflected the high esteem that many held him in. Although not a minister in the traditional sense, Parson Jones was deemed qualified by his peers to preach. He spoke on Sundays at Mt. Zion Baptist Church and is said to have been involved in its development. Founded in 1896 by the Reverend T.M. Tramell, it was organized and built by black Baptists. Like many other black churches established in Dade County at that time, it provided a spiritual home for blacks and was a source of mutual and charitable support.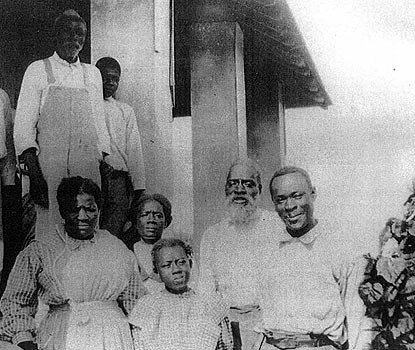 In 1898, Israel Jones purchased Old Rhodes Key (Porgy Key is legally part of Old Rhodes) and moved his family to the island within two years of that date. When Jones and his family first arrived, there was already a two-bedroom house constructed on the property belonging to the previous owner. The second house, a two-story, four-bedroom structure, was completed by Israel Jones and his brother Samuel in 1912. In addition, Jones dug a trench in order to put in a dock for his boat. In the true spirit of homesteading, the Jones family made this place their own. Along with building a house, Israel Jones began the Herculean task of clearing the land by hand. This clearing involved cutting through gumbo-limbo, palmetto and mahogany trees, and thorny vines that could slice through the skin. Once Jones and his sons cut through the foliage, a landscape of coral limestone was revealed. For Jones, this was a boon because he knew that pineapples, tomatoes and limes would grow well here. He began farming pineapples and key limes and within two years of planting, the Jones family began to see profit. In addition, he produced fruits and vegetables in order to supplement his income. Eventually, the Jones farm became one of the largest producers of pineapples and limes on the East Coast of Florida.
Adding to his landholdings, Israel Jones purchased Totten Key from Frank T. Budge in 1911. This land had previously been home to an approximately 250-acre pineapple plantation. This purchase would prove to be quite an investment - he bought the island for $1 an acre and eventually sold 212 acres for $250,000.
Israel Jones, while busy with farm production, purchasing additional land and building a new home, still had time for community involvement. Along with providing ongoing support for Mt. Zion Baptist church in Miami, he participated in the creation of a Negro Industrial School in Jacksonville. While there were a number of industrial schools created around the turn of the century, one in particular stands out in existing documents in relation to Israel Jones. Originally known as the Florida Baptist Academy, this school was founded in Jacksonville in 1892. In 1918, the school moved to St. Augustine (where Lancelot and Arthur attended classes) and eventually merged with the Florida Baptist Institute to become the Florida Normal and Industrial Memorial Institute. In 1963, the school was renamed Florida Memorial College and relocated to Miami in 1968.
As his sons got older and were able to take over much of the labor needed to maintain the land, Israel Jones spent more time preaching in Miami and taking part as a trustee in the continuing growth of this Negro industrial school in Jacksonville. Back on the homestead, Mozelle oversaw the maintenance of the home, took care of their sons, and received visitors fairly regularly. In between bone fishing and taking care of their fruit trees, the boys received a formal education from a teacher who had been brought in from St. Augustine to live with the family. Eventually, much to the dismay of Lancelot and Arthur, the two boys were sent to St. Augustine to attend the Florida Industrial College (Florida Baptist Academy).
In 1929, Israel handed ownership of Totten Key over to his sons, Arthur and Lancelot. Soon after, Mozelle's health failed and she passed away. A few years later, in 1932, Israel Lafayette Jones died at the age of 73. His funeral was held at Mt. Zion Baptist church and was well attended by black and white mourners alike. D.A. Dorsey, considered to be Miami's first black millionaire, spoke of Jones's achievements in the face of adversity. Reverend J.R. Evans echoed those sentiments in his sermon and Jones's funeral received generous coverage in the Miami Herald.
Last updated: February 8, 2017