Mandalay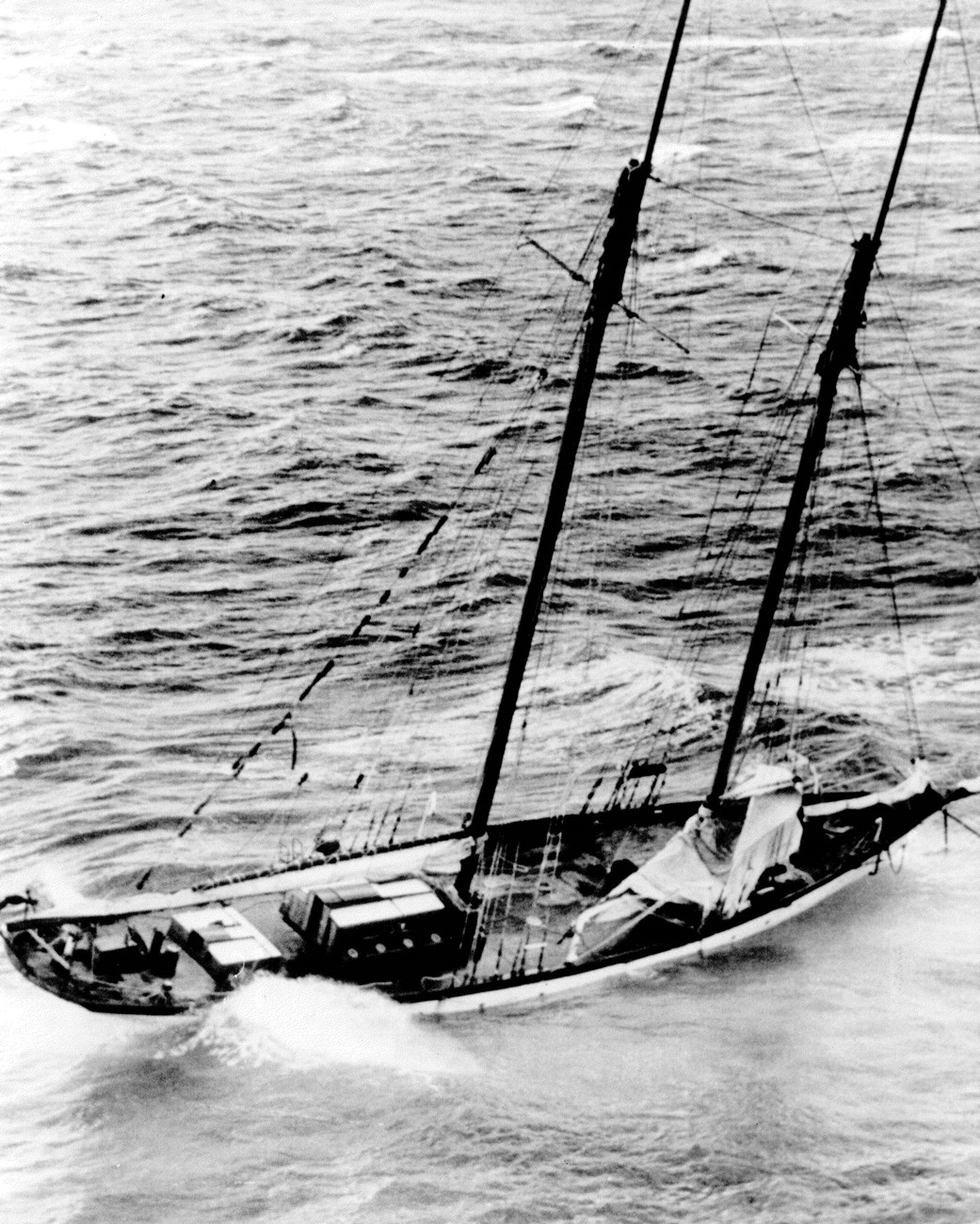 Built: 1928 – United States
Sank: January 1, 1966 – Long Reef
Route: Bahamas to Miami
112 foot, steel-hull, auxiliary schooner
Location:

25º 26.530N, 80º 7.301W
On New Years Day, 1966, the schooner Mandalay ran aground on Long Reef. The wreck now lies in the eastern part of Biscayne National Park and is one of the best shallow dive spots in the park.
John G. Alden Naval Architects, Inc. designed Mandalay, originally named Hardi Biou, for Dr. Henry D. Lloyd of Brookline, Massachusetts. The 110' 6" long, steel hulled schooner was built by George Lawley & Son, Corporation in 1928, at a cost of $177,000. The schooner was sold in 1931 and renamed Valor, and subsequently had 5 other owners under that name. Michael Burke, owner of Windjammer Cruises, Inc., purchased, refitted, and renamed the vessel Mandalay in 1965, for use as a luxury cruise ship.
Mandalay was beautifully outfitted in mahogany, brass, and ivory, and had a teak deck. Aft quarters were a suite of 2 rooms with an adjoining bath for the owner, 3 single staterooms, each with a bath, and a large guest room with an individual bath. Forward of the main mast were a large saloon and living room, 3 officer's staterooms with a bath, and ample forecastle for 6 men with a washroom and shower. All bathrooms had hot and cold water and all waste connected to a complete sanitary system. There were electrical lights and fans and other electrical equipment, and every stateroom had individual ventilation.
In late 1965, Mandalay was headed toward Miami with 23 vacationers and 12 crew, returning from a 10 day Bahaman cruise. Passengers had retired to their rooms after celebrating the arrival of the New Year, 1966, and Captain Asmund [Jim] Gjevick, a 26 year old Norwegian, went to sleep about 1:00 AM, leaving a novice seaman at the helm. All were awakened when Mandalay was driven hard aground on Long Reef. Later, Captain Gjevick admitted he had miscalculated the distance from Fowey Rocks, causing Mandalay to be 20 miles off course. At the request of Capt. Gjevick, an SOS was sent by A.E. Lundquist, President of the Coca Cola Bottling Co. of Boston at 3:45 AM, which brought Coast Guard helicopters and patrol boats to the scene. Flares were dropped by the helicopters, and fired by Mandalay crew to illuminate the rescue operation that took place in windy conditions with 10 foot waves. Three helicopters lifted 24 persons, one by one, and flew them to Homestead Air Force Base. The only injury was to L. Quinn Hal, an Indianapolis real estate man, who cut his hand.
Scavengers stripped the vessel, taking the ship's compass, sextant, chronometers, passenger cameras, watches, and purses, and the owner's personal gear. Tons of lead ballast blocks, taken by small outboard motorboats and melted into lead diving weights, were resold at $1.00 per pound. The ½ ton anchor and stud link chain were also taken. On the Sunday after Mandalay was grounded she was "picked to her skin and bones" by average work-a-day boat owners, before salvage tugs could arrive. The tugs failed to pull the ship off the reef, and so the masts were removed, by contract with the owners, for eventual use in the re-creation of a Spanish Galleon called Golden Doubloon. Today the skeleton of Mandalay, "red carpet ship of the Windjammer fleet", can be found embedded on Long Reef in Biscayne National Park.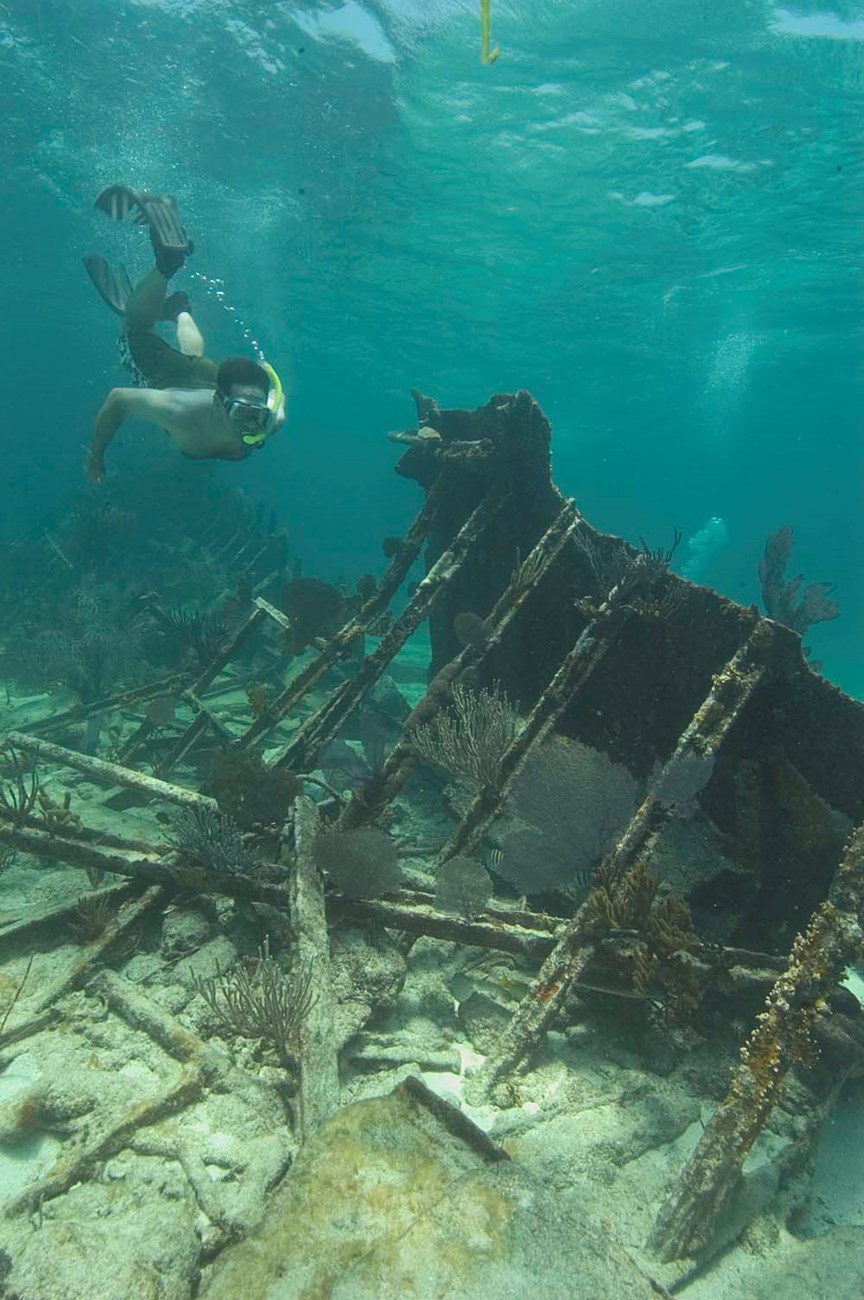 Last updated: April 28, 2021