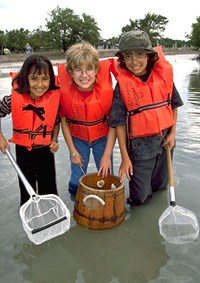 An Outdoor Adventure
Camps are available from January through April for new teachers and December through April for returning teachers. The camps run from Monday through Wednesday or Wednesday through Friday.
Facilities on the island include:
Picnic tables with a shelter, barbecue grills, a campfire circle, bathrooms, and a classroom.
Group size:
Maximum of 25 students and minimum of 15 students. There must be one teacher/chaperone per five students.
Park's Responsibility
Biscayne National Park provides program guidance, a ranger to lead or assist with activities, boat transportation to the island, tents and the site with associated facilities.
School's responsibility
Schools provide transportation to the Park's Dante Fascell Visitor Center, food and one chaperone per five students.
Workshop Requirement
An overnight workshop is required to familiarize new teachers with the camping program activities, opportunities, logistics and safety considerations.
Learn more about this fantastic program in our comprehensive Camping Guide. To sign up, print out our 2006/2007 Camp Registration Form. Fill it out and send it to Biscayne National Park, Education Coordinator at Biscayne National Park, 9700 SW 328th Street, Homestead, Florida, 33033. Note: The form is not available until August of the upcoming school year and must be surface mailed. Faxes, hand delivery or emails will not be accepted.