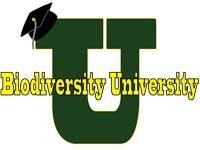 During Bioblitz, everyone had an opportunity to learn more about the importance of biodiversity in a variety of ways. Whether participating in a field survey, listening in on a scientist lecture, or talking with the park's many partners at the Convoy Point or Elliott Key basecamps, participants earned "credits" towards degrees in Biodiversity Awareness!
Biodiversity University participants kept track of their learning on an Official Transcript. One box on the transcript was stamped for each credit received. Six stamps is all you needed to earn a B.B.A. (Bachelor of Biodiversity Awareness) diploma! Additional credits/stamps earned advanced degrees!
To make sure everyone had a solid foundation, there were three required courses. These credits were earned by participating in hands-on activities at Convoy Point. School groups and individuals completed online activities at the National Geographic website to take care of their required courses before they arrived. With the required courses under their belt, they were only 3 credits away from earning a B.B.A (Bachelor of Biodiversity Awareness)! Credits could be earned in the following ways:
Partner Booth Activities - specially marked partner booths at both Convoy Point and Elliott Key offered hands-on learning opportunities that earned one credit per activity. Some were easier than others…kind of like Basketweaving and Organic Chem. No arguments…one credit per "course."
Field Experiences – attendance at presentations or lectures (either in the main tent or in the upstairs auditorium) were worth 2 credits each.
Study Abroad – participants who went out on a boat to do field surveys were awarded 4 credits each.
Upon returning their transcript to the Biodiversity University tent, staff checked it over and issue a printed diploma.