Alerts & Conditions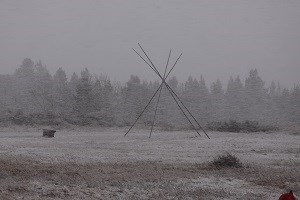 Weather and Road Conditions
Located in a large mountain valley at over 6,000 feet in elevation, weather can be severe and road conditions poor at the battlefield. The National Weather Service's forecast, the State of Montana's road conditions, and the battlefield's web cam are all good resources for current and forecasted conditions in the area.

Visiting Big Hole National Battlefield During COVID-19
The National Park Service (NPS) is working servicewide with federal, state, and local public health authorities to closely monitor the COVID-19 pandemic and using a phased approach to increase access on a park-by-park basis. Based on guidance from the White House, Centers for Disease Control and Prevention (CDC), and state and local public health authorities, access to the park is as follows:

Open:
Park grounds (including deck on Visitor Center) and trails from sunrise to sunset.
Due to the Trail Creek Fire, the lower parking lot, trails and picnic area remain closed for public safety and resource protection.

Big Hole National Battlefield Visitor Center winter hours started Oct. 5, 2021, Tuesday - Saturday, 10 a.m. - 4:30 p.m.
Tips for Visiting and Protecting the Park
Please

RecreateResponsibly

, follow local health orders, practice

Leave No Trace principles

, and avoid crowding and high-risk outdoor activities.

Please continue to practice social distancing, avoid large groups, and stay 6 feet away from others. Cover your coughs and sneezes.

The National Park Service encourages you to follow CDC guidance to reduce the spread of COVID-19 and to wear a face covering when social distancing cannot be maintained.
The CDC has offered guidance to help people recreating in parks and open spaces prevent the spread of infectious diseases. We will continue to monitor all park functions to ensure that visitors adhere to CDC guidance for mitigating risks associated with the transmission of COVID-19 and take any additional steps necessary to protect public health.
Air Quality
Clean air helps people breathe easy and see far. It keeps our parks and planet healthy too!
Breathe Easy: Parks are amazing places to be active. Good outdoor air quality helps people feel their best as they enjoy national parks.
See Far: Clean air is critical for clear views of park scenery and historic landscapes.
Enjoy Nature: Good air quality supports healthy wildlife, vegetation, water, and soils. National parks conserve sensitive natural places.

So what is the current air quality at Big Hole National Battlefield? We have installed an air quality monitor at the visitor center, so you can know in real-time what the current air quality is.
Last updated: November 1, 2021