Hiking
Big Hole National Battlefield's three trails are open from sunrise to sunset daily year-round. During the summer and fall trail guides are available at the trail heads. Ask for them at the visitor center in the winter. The road leading to the lower parking lot and trail-heads is closed to vehicles each winter, but remains open for use by snow-shoers & cross country skiers.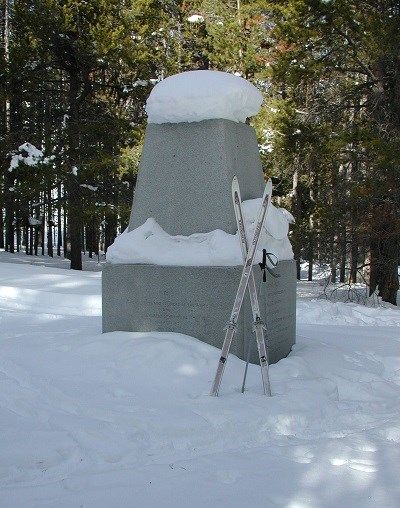 The Nez Perce Camp Trail
The Camp Trail leads to the site where the sleeping nımí·pu· (Nez Perce) were camped when the army attacked on the morning of August 9, 1877. It is a 1.6 miles round-trip walking trail with no elevation gain. The surface is packed earth and may be muddy in the early summer, and rutted later in the season. Hikers should keep an eye out for ground squirrel dens/holes, which can easily be stepped into. The trail takes approximately one hour to complete.
Siege Area Trail
The Siege Area Trail is 1.2 miles round-trip and climbs about fifty feet in elevation. The trail takes approximately forty-five minutes to complete. nımí·pu· warriors besieged the troops under the command of Colonel Gibbon after pushing them out of the camp. Visitors can look at rifle pits dug by the soldiers and see the historic monument dedicated to the Seventh U.S. Infantry soldiers, erected in 1883.
The Howitzer Trail
The Howitzer Trail leads to the site where nımí·pu· warriors captured a 12-Pound Mountain Howitzer from the military. A replica greets hikers who make it to the site. It is a 0.8 mile spur trail off of the Siege Area trail that climbs 320 feet in elevation, and takes approximately 40 minutes to hike. Many tree roots and other potential trip hazards crisscross this trail as it ascends a steep hillside. The climb can be strenuous, but the view from the howitzer site is breathtaking!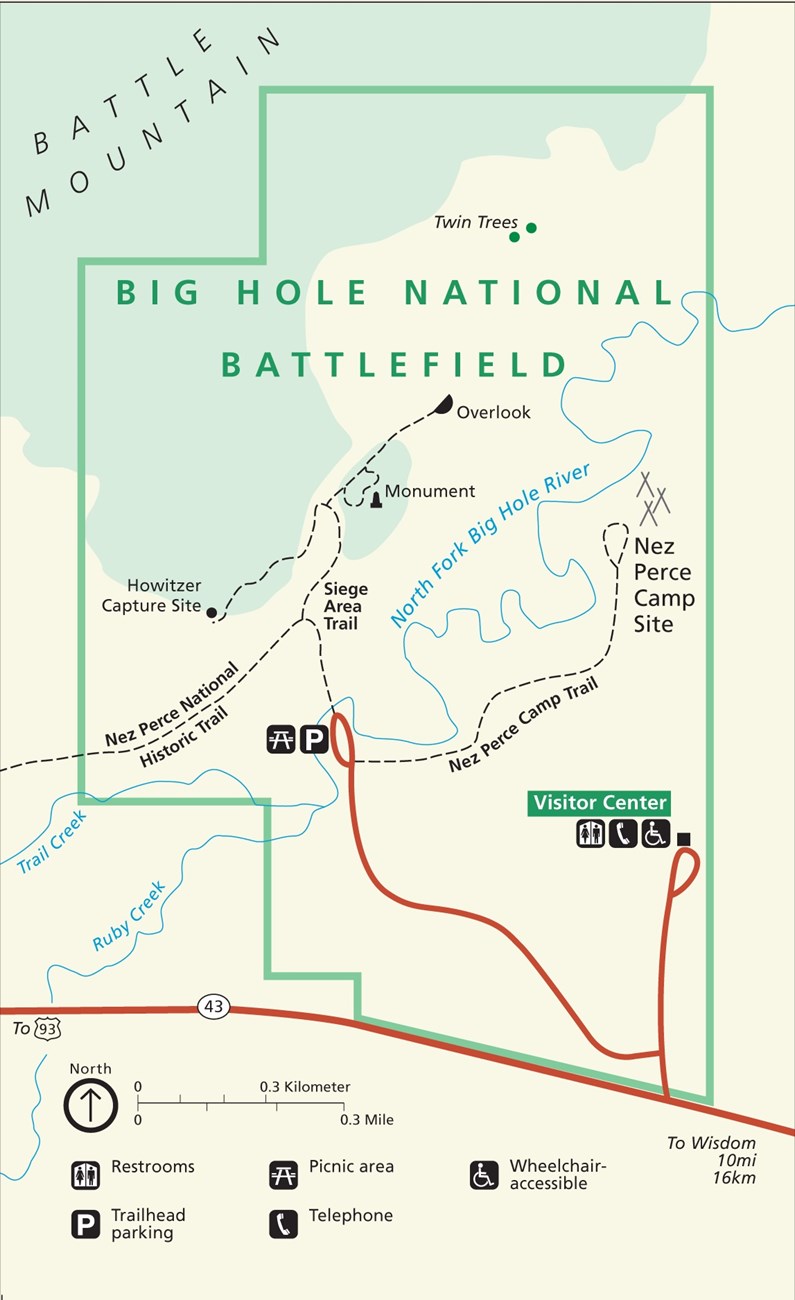 Respecting Sacred Ground
Big Hole Battlefield is sacred ground for all who fought here. It remains a burial ground and a place of mourning and remembrance. As you walk around the battlefield, please be respectful to those who died here.
Walk or stand on the trails. Unmarked graves exist here; please avoid trampling them out of respect for the dead and their living ancestors.
Leave all items at tipi memorials in place and undisturbed. The offerings that nımí·pu· (Nez Perce people) leave in memory of their ancestors are sacred.
Do not take your pets on the trails. They are welcome to join you for a stroll on all paved surfaces in the park, so long as they remain on a 6-foot or shorter leash.
Digging in the area or collecting rocks or other items is not allowed.
Metal detector and drone use are strictly prohibited here, and throughout the entire park.
Please do not litter. Trash and recycling bins are provided for your convenience at the trailhead parking lot.
Report any damage or suspected violation to the National Park Service at (406) 689-3155 or email us.
For Your Safety
Big Hole National Battlefield is located at about 6,300 feet above sea level. Visitors may need to slow their pace when walking.
Drinking plenty of fluids is encouraged as the Big Hole Valley can be dry year round.
Weather conditions can vary greatly at any time of year; layered clothing is highly recommended.
Insect repellent is highly recommended, as mosquitoes and other biting insects are prevalent in the early summer.
Consider wearing sunscreen, as it is easier to get a suburn at high elevations such as this.
Be aware of your surroundings and keep an eye out for wildlife. Black bear, mountain lions, moose, porcupine, and other potentially dangerous wildlife live here. Admire all wildlife from afar and give them plenty of space. DO NOT APPROACH them. If an animal changes its behavior due to your presence, you are too close.
Last updated: December 2, 2023