Off-Road Vehicle Use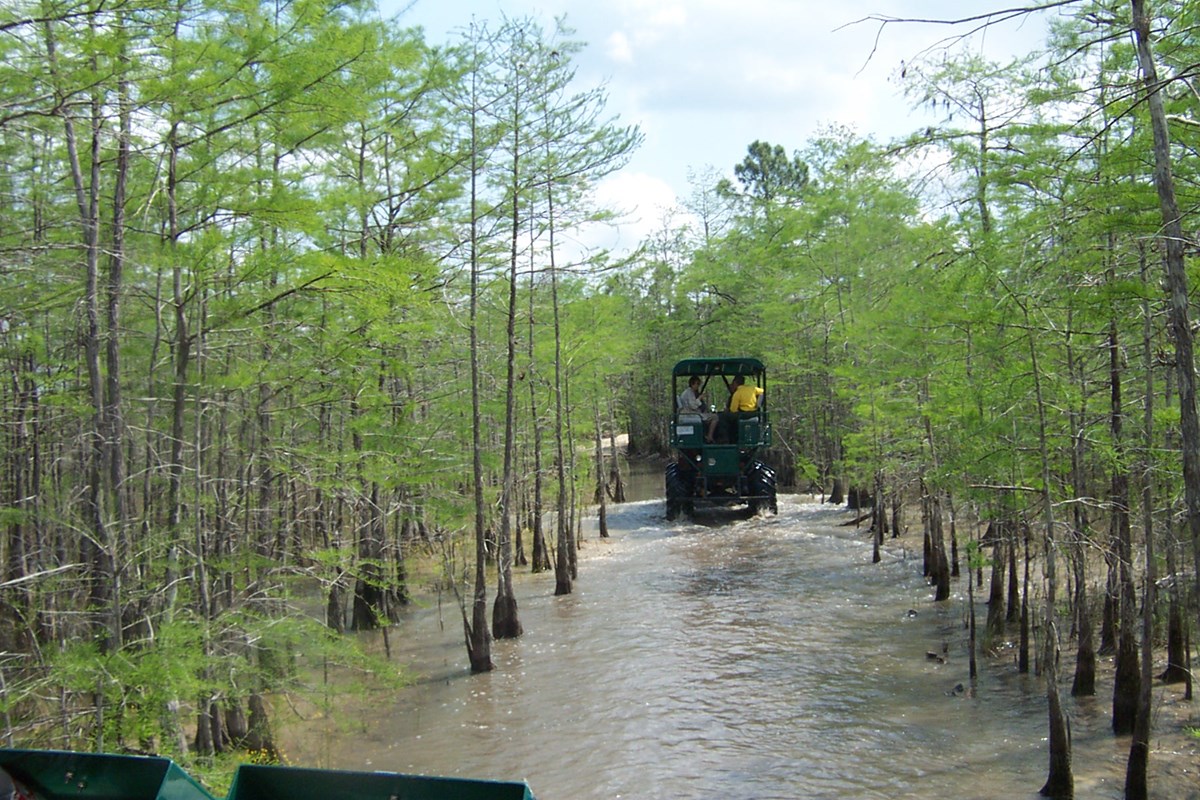 Nearly impossible to reach by foot, generations have explored remote areas of the preserve using homemade airboats or swamp buggies. Today, people enjoy this traditional activity along an extensive trail system.
Off-road vehicle operation on designated trails for hunting, fishing, frogging, camping, wildlife observation, transportation to private property, and other traditional nature-based activities are consistent with the Big Cypress National Preserve enabling legislation and the Addition Act, and are, therefore authorized in the Preserve.
Please note: Off-road vehicle use requires appropriate permits. Renewals and new ORV permit requests are now issued on Wednesdays, Fridays, and Saturdays* from 8:00am -12:00pm at Preserve Headquarters (33100 Tamiami Trail East. Ochopee, FL 34141.) Permits will be issued on a first come first served basis. This permitting procedure will continue until further notice.

*The off-road vehicle office will be closed Friday Nov 26th, Friday Dec 24th, Saturday Dec 25th, and Saturday Jan 1st. No off-road vehicle permits will be issued on these days.
Operation of off-road vehicles in excess of the authorized speed limit, off designated trails, or for the purpose of challenging the vehicle against Preserve resources or other vehicles, such as racing, mudding, sport riding, motocross riding, and competitive events, is not consistent with the Big Cypress National Preserve enabling legislation, or the Addition Act. These non-traditional pursuits damage the resource and, therefore, are not authorized in Big Cypress National Preserve. Engaging in these activities can result in forfeiture of off-road vehicle access privileges.
To learn more about off-road vehicle recreation within the national preserve, please use the following links.
Want to register an ATV or UTV? Learn more about the state's title requirements here.
To view maps of designated Off-Road Vehicle trails

click here

. Maps can be viewed per unit on printable PDF files, or all designated off-road vehicle trails may be viewed using Google Earth or Garmin software.
The Off-Road Vehicle Advisory Committee was established pursuant to the national preserve's 2000 Recreational Off-road Vehicle Management Plan and the Federal Advisory Committee Act of 1972, to examine issues and make recommendations regarding the management of Off-Road Vehicles within the Preserve.
Organizers of group off-road vehicle events are required to obtain a special use permit, by clicking here.
Florida Fish and Wildlife Conservation Commission Big Cypress Wildlife Management Area Hunting Regs .


Last updated: November 24, 2021