Pets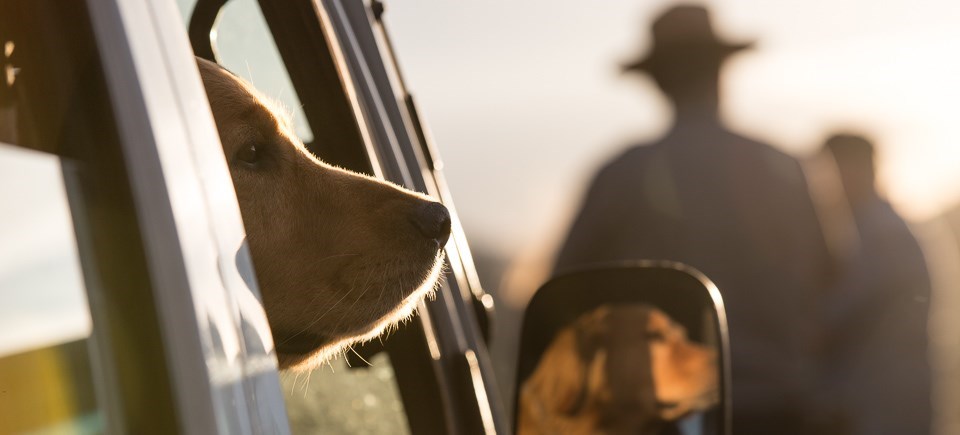 Regulations for Pets in the Park:
Having a pet with you may limit some of your activities and explorations in the park.
For the safety of your pet, other people, and park wildlife, please observe the following regulations.
Pets are not allowed on trails, off roads, or on the river. Your pet can only go where your car can go.
Pets are not allowed to go into Mexico at the Boquillas Port of Entry.
Pets need to be on a leash no longer than six feet in length (or in a cage) at all times.
You may not leave your pet unattended in vehicles if it creates a danger to the animal, or if the animal becomes a public nuisance.
If you plan to hike or take a river trip, someone must stay behind with the pet, or you will need to make arrangements with a kennel service. There is no kennel service in the park.
Pet etiquette and park regulations require that you always clean up after your pet and dispose of waste in trash receptacles.
"Why aren't pets allowed on trails?"
For many visitors, seeing wildlife is a highlight of a national park visit. Unfortunately, the mere presence of pets in the park alters the natural behavior of native wildlife. In national parks, the native species have priority.
Odors left behind by dogs may prevent wildlife from returning to important habitats such as fan palm oases.
Sensitive archeological sites are often difficult to see and may inadvertently be disturbed by inquisitive four-legged visitors.
The safety of your pet is important as well. Abundant cactus spines, rattlesnakes, and thorns are good reasons not to let your pet roam free. Dogs are natural hunters, but can easily become the hunted. Predators such as coyotes and mountain lions can kill pets, even during daylight hours.
Even though your pet follows instructions and is very well-behaved, others do not know your pet and may feel uneasy when encountering an unleashed animal.
By following the park's simple regulations and respecting fellow visitors, you and your pet can have a happy and healthy park outing.
Service Animals
Qualified service animals assisting people with disabilities are allowed throughout the park and in all park facilities. However, they must be leashed.


Last updated: November 26, 2021