CCC Photographs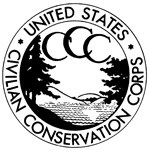 From 1934-37 and 1940-42, the
Civilian Conservation Corps
operated a camp in the Chisos Basin, developing facilities for the future national park.
At any one time, as many as two hundred young men between the ages of 18-25 worked, and played, in what is now Big Bend National Park. Their contribution to the infrastructure of the park was a critical step in the establishment of the national park here.
These photographs capture the life and work of the boys who served in the camp.


Last updated: February 24, 2015