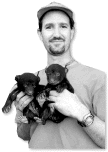 Many park visitors are surprised to find out that black bears are a recent arrival in Big Bend National Park. At the time of park establishment in 1944, all native black bears had been extirpated by hunting, trapping, and habitat loss. In the late 1980's, completely unaided by humans, bears from nearby Mexican mountain ranges began returning to the Chisos Mountains. Park visitors and employees alike have been thrilled to witness this rare and special event. Last year, there were 343 observations recorded in the park.
Little is known about the black bears of the Chihuahuan Desert and more specifically the bears now residing in Big Bend National Park. In order to uncover the characteristics and needs of this small, isolated population, the National Park Service initiated a three year bear study in 1998. Funded by the National Park Service and the US Geological Survey-Biological Resources Division, this study will ultimately help park managers identify critical habitat requirements of, and determine the genetic health of Big Bend bears.
Implementation of the bear study has been a cooperative effort between Dave Onorato, a Ph.D. student from Oklahoma State University, and Scott Mitchell, a master's degree candidate from nearby Sul Ross University. For the past two years, with the help of park rangers, these two have carefully trapped, tranquilized, and affixed radio-transmitting collars to 10 bears in the Chisos Mountains. Tissue samples have been taken and each bear identified. Genetic studies will ultimately reveal the Big Bend bear family tree. Fieldwork will continue through the fall of 2000.
While many university students spent spring break 2000 hanging out with friends on the beach, Scott Mitchell and Dave Onorato headed for the Chisos Mountains in search of their radio-collared bears, particularly the females which hopefully had given birth during the previous winter months. Following the signals, Dave and Scott located four dens of female bears. Were cubs inside? Someone would have to venture into the dark recesses to find out. This is where the study became up-close and personal! Armed with only a small hypodermic syringe Dave or Scott would enter the den to tranquilize the female bear. This was extremely dangerous work, especially since bears here don't enter a true hibernation.
Dave and Scott's discoveries proved that winter 1999/2000 was a fruitful one for Big Bend black bears. All four females had given birth to twins. A quick series of body measurements were followed by taking a small tissue sample and fitting a tiny ¼ inch transponder tag under the skin of each cub for future identification. Soon the cubs were safely back with mom in the shelter of the den. In April, under the watchful eye of their mothers, these eight cubs entered the outside world and a new generation of Big Bend black bears began roving the Chisos Mountains.