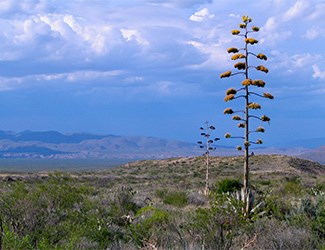 Agaves
Agaves are low-growing evergreen plants with succulent leaves that form a bowl shape or basal rosette. Colonies often form from underground sprouts. The leaves are tipped with a hard spine and the leaf margins may also have spines. Agaves bloom once in their lifetime and then die. The rapidly growing flower stalk exhausts all of the plant's resources to survive. Stalks generally appear in 20–50 years, a much shorter duration than their common name—century plant—implies. Depending on the species, fragrant blossoms form as tight clusters along the upper portion of the stalk or branch out in upright clusters. Pollinators, including bees and moths, depend on these plants for nectar, as do early migrating hummingbirds and Scott's orioles. The fruit is a brown capsule with three cells and two rows of black seeds.
There are eleven species of agave in Texas, three of which are found in Big Bend National Park. The gigantic Havard Agave (Agave havardiana) is one of the most visible icons in the park, but the most numerous is Lechuguilla (Agave lecheguilla).
Lechugilla, like the Joshua Tree (Yucca breifolia) of the Mohave Desert, is the indicator plant of this desert. Lechuguilla is found in all portions of the Chihuahuan Desert from Texas and New Mexico to south central Mexico, but not found anywhere else. These low-growing plants (only about a foot in height), are especially common in gravelly, limestone areas. The plants have thick, leathery leaves with dagger-sharp terminal spines and often grow in massive colonies that can be nearly impenetrable by foot or horseback. Lechuguilla was a very important source of fiber for Native Americans and is still used today to make rope in Mexico. The roots of the plant are high in saponins, so they taste bitter but are a good source of soap. The lechuguilla blooms once after growing three to twenty years.
Agave havardiana, or century plant, is the largest agave in the park. It blooms once in its life after growing 20-50 years. Mexican long-nosed bats pollinate the bright yellow flowers. The leaves of the century plant have a blue-gray color. The century plant also provides an excellent source of fiber for ropes, mats, sandals, etc. The hearts of the plants were harvested by the Native Americans and then baked in a stone-lined pit for two to three days. Once baked, the plant provided a source of food that could be dried and stored to help them to survive the long winter. The dried flower stalks served as building material. Century plants in Mexico provide the alcoholic beverages of pulque, mescal, and tequila.
The third agave in Big Bend National Park is actually a hybrid.
Agave gracilipes
is the plant that occurs when the century plant and lechuguilla cross breed. It looks like a large lechuguilla or a small century plant. It also provided fiber for the Native Americans.