Superintendents Compendium
The superintendent's compendium is a written compilation of designations, closures, permit requirements and other authorizations and restrictions adopted under discretionary authority found in the Code of Federal Regulations (CFR). Regulations for national parks are in 36 CFR and 43 CFR. The National Park Service is committed to making all practicable efforts to make the park compendiums accessible and usable by all individuals.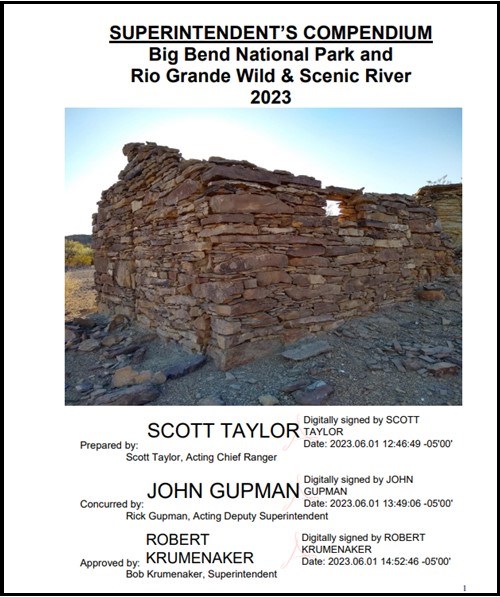 Superintendent's Compendium
Listing of Special Rules in Effect For
Big Bend National Park
Rio Grande Wild & Scenic River
2023
Authorized by Title 16, United States Code, Section 3, and Title 36, Code of Federal Regulations, Parts 1 through 7, the following regulations are established by the Park Superintendent for the proper management, protection and public use of Big Bend National Park and Rio Grande Wild and Scenic River.
These regulations apply in addition to the criminal laws of the United States and the regulations contained in Title 36 of the Code of Federal Regulations. A person convicted of violating a provision of these regulations may be punished by a fine as provided by law, or by imprisonment not exceeding 6 months, or both, and shall be adjudged to pay all costs of the proceedings.

Approved 6/1/23 by Scott Taylor, acting Chief Ranger
Approved 6/1/23 by John Rick Gupman, Deputy Superintendent
Approved 6/1/23 by Robert J. Krumenaker, Superintendent
2023 Superintendent's Compendium
Last updated: June 12, 2023