Stock Use Regulations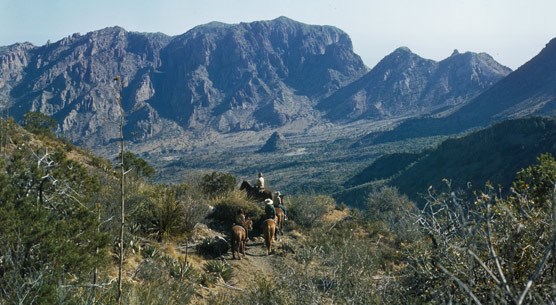 Visitors are welcome to bring and use personally owned livestock as long as they understand and abide by the rules and regulations governing the use of livestock. A backcountry day use permit is required for all horse and stock use and may be obtained at any visitor center, free of charge.
All gravel roads are open to horse riders. Horses are not permitted on paved roads or the shoulders of paved roads.
Cross country horse travel (not on some trails) is permitted throughout the park, except for the Chisos Mountains area. Horse use in the Chisos Mountains is limited to the Laguna Meadow Trail, the South Rim Trail to the junction with the Boot Canyon Trail, and the Blue Creek Trail. Horse trailers may be parked in the Chisos Basin amphitheater parking lot and horses unloaded. From there equestrians may take the trail (0.5 miles) from the parking area up to the main trailhead area to access the Laguna Meadow trail.
Horses are not permitted on the interpretive nature trails throughout the park since they were only designed for foot travel. The short trails into Santa Elena and Boquillas Canyons are also restricted to pedestrians only. The Pine Canyon Trail in the Pine Canyon Designated Natural Research Area is closed to horses.
Horses are not permitted in developed campgrounds, picnic areas, near eating or sleeping facilities, or other areas of concentrated visitor use. All areas of domestic water supply or other sanitation facilities are closed to horses.
Horses may not be taken into Mexico and brought back into the United States without proper authorization from the United States Department of Agriculture.
Backcountry riders must provide controlled overnight maintenance of their animals, including the provision of commercial feed. Grazing within the park is not allowed. Water must generally be hauled to the stock in the lower elevations of the park, where a semi-desert climate prevails. Stock may be watered at the Rio Grande and springs that are not utilized for domestic water supply. Check with park rangers for spring water flows in various areas of the park.
Areas of quicksand may be encountered along the streams, washes, and the Rio Grande. Desert vegetation such as lechuguilla and cactus can injure livestock.
Reasonable consideration must be given to public safety. Stock loading and unloading sites must be selected with consideration to the safety of onlookers as well as the stock. Riders must slow their horses to a walk when meeting people on foot.
Permits are required for overnight camping. All backcountry campsites are available on a first come, first-served basis. Beginning February 1, 2020, selected primitive campsites will be added to the online reservations system, and will be reservable up to 6 months in advance through www.recreation.gov

Only the following backcountry campsites are open to horses:
| | |
| --- | --- |
| Site Name/Number | Number of horses |
| K-Bar 2 | 4 |
| Hannold Draw | 8 |
| Nine Point Draw | 4 |
| Nugent Mountain 2 | 4 |
| Glenn Springs 2 | 4 |
| La Clocha 1 | 4 |
| Dominguez Trailhead | 4 |
| Loop Camp 1 & 2 | 4 each |
| Johnson's Ranch 1 & 2 | 4 @ JR1; 2 @ JR2 |
| Buenos Aires 1 | 4 |

A corral is available at Hannold Draw Campsite. Many of the campsites are located on unimproved gravel roads which may be inaccessible to horse trailers. Check at a visitor center for current road conditions.
Overnight camping with horses is prohibited within 100 yards of any water source, within l/2 mile of any developed area or road, within 100 yards of any historic structure, or that portion of the park known as the Oak Springs/Cattail Falls area.
Manure, excess hay, other feed, and bedding in campsites where horses are permitted must be cleaned up and removed from the park.
Note: Generator use is not allowed in the backcountry, or at any backcountry campsite.


Last updated: April 6, 2020