Los Diablos Fire Crew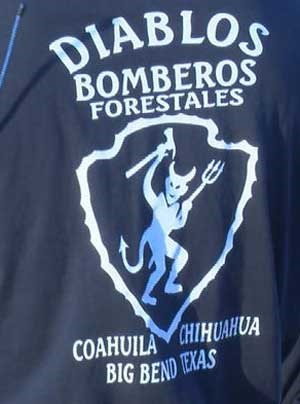 An International Partnership
Big Bend National Park's Fire Management program has benefited for two decades from the assistance of Mexican nationals who live in the tiny villages immediately across the Rio Grande from the park. The remoteness of the park from other firefighting resources in the United States creates the need to find local resources. With assistance from the Department of Homeland Security and the U.S. Border Patrol, program participants are eligible for parole into the United States on an annual basis to assist any emergency firefighting effort in the company of Big Bend National Park staff.
Over 30 men participate in a wildland firefighting program that began in 1990 and expanded in 1997. In 2002, a "breakout" year, El Programa Los Diablos provided crews for eight wildland fires/severity incidents covering 103 days.
Firefighters are assigned to hand crews named for their original promise to "fight fire like devils." (Diablo is Spanish for devil.) This program has served as an example of cooperation between agencies of the two countries.

Last updated: September 20, 2019