General Management Plan for Big Bend National Park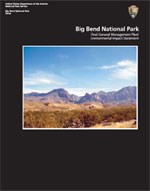 What is a General Management Plan?
The National Park Service maintains an up-to-date general management plan (GMP) for each unit of the national park system. The purpose of this plan is to ensure that each park has a clearly defined direction for resource preservation and visitor use. This basic foundation for decision making is developed in consultation with servicewide program managers, interested parties, and the general public. It is based on an adequate analysis of existing and potential resource conditions and visitor experiences, environmental (including natural, cultural, and socioeconomic) impacts, and costs of alternative courses of action. General management plans should be reviewed and revised as necessary to keep them current. It is anticipated that such reviews will be needed every 10-15 years or sooner if conditions change more rapidly.
Even in parks with strong traditions and entrenched patterns of use and development, decision makers will benefit from occasionally stepping back and reassessing their overall goals, particularly if resources are threatened, sites are crowded, or the park's built environment requires extensive rehabilitation or maintenance. This will give everyone with a major stake in the park an opportunity to revalidate the park's role in the nation and in the region and to reconfirm that the kinds of resource conditions and visitor experiences being pursued are the best possible mix for the future. An approved general management plan may be amended, rather than revised, if conditions and management prescriptions over most of the plan area remain essentially unchanged from those present when the plan was originally approved.
The 2004 General Management Plan will guide park policy and decision making in Big Bend National Park for years to come.


Last updated: August 6, 2021