The Hot Springs Tablet

The Fantasy, the Saga, and Some Truth
by Thomas Alex
Over the years, the subject of the Big Bend Tablet resurfaces on social media and it often evokes radical opinions that run counter to truth, verging on total fantasy.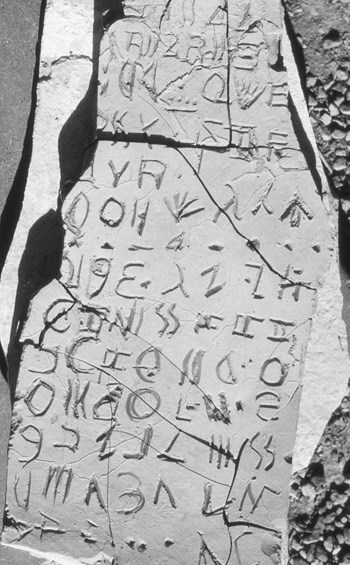 The Hot Spring Tablet was found in winter 1962 by Charles and Bernice Nickles (of Alaska) and Mrs. Nickles son Donald Uzzell and wife Reva (of San Marco, Texas). Donald was climbing around on the cliff above Tornillo Creek opposite the Hot Springs Post Office and Motel when he reached into an L-shaped cleft in the cliff and found a stack of what at first was assumed to be fragments of a large clay tablet upon which strange inscriptions had been made. As Donald handed the pieces down to the others in the party, they were pieced together like a jig-saw puzzle. Charles & Bernice Nickles took color transparency slide photographs of the tablet after it was assembled.

Before leaving the park, the group took the fragments to park headquarters at Panther Junction where they were received by Chief Naturalist Douglas Evans. By Evans' own account detailed below, the tablet was not made of clay but was of the fragile river silt that is found along the Rio Grande and all its tributaries. The inscriptions were fresh as though someone had made them very recently. This did not however, sway the tablet's finders of the certainty in their minds of incredible discovery.

Bernice & Charles Nickles contacted Lewis R. Church, author of an article on ancient writings found in America and provided him with the photographs they had taken. Church corresponded with Dr. Phillips of the Classical Languages Department of Brigham Young University. Both agreed the characters were similar to a very old Greek alphabet.
In 1969, seven years after finding the tablet, the Nickels contacted Jack & Bernice McGee, True West Magazine contributors. The McGees had worked on several other discoveries of ancient inscriptions, the random occurrence of ancient Roman coins, and so forth around the U.S. and readily took an interest in the Big Bend Tablet. The McGees sent photos to Dr. Cyclone Covey, Department of History, Wake Forest University.
Later in 1969 Bernice and Jack McGee contacted Roland H. Wauer who was then, Chief Naturalist at Big Bend National Park. Between 1969 and 1977, a steady stream of correspondence (on file at Big Bend National Park) ensued between the McGees and the National Park Service as well as several academic institutions that charted the search for an explanation of the tablets and an interpretation of the enigmatic inscription thereon.
On February 4, 1970 Roland H. Wauer contacted Douglas Evans who was the Chief Naturalist in 1962 when the "clay tablet" was discovered. Evans responded to Ro Wauer in correspondence on February 10, 1970:
"The so-called "tablet" was not made of "clay"; it was made of sun baked mud which had been peeled from a recently soaked mud flat, like occurs along Tornillo after a flood. It was extremely fragile and it couldn't be handled without crumbling. It was not weathered at all, indicating it was of very recent origin. When I first saw it, I thought these people had made it themselves the day before. Apparently not, but someone else had made it a short while earlier.

It laid in my office, in the Maintenance Building, for many weeks. I showed it to any and all who might be able to shed some light on it. Everyone agreed it had no archeological or historical significance. It disintegrated from handling, and the move down to the new Administration Building finally turned it into a pile of dust. Anyway, as long as we were able to hold it together, no one who saw it believed it had any antiquity. The consensus was that a Mexican goatherd had sat and doodled in the mud with a stick."
Wauer forwarded the letter from Evans to the McGees and on June 2, 1970, Bernice McGee wrote a four-page letter to Roland H. Wauer thanking him for the Evans letter. McGee expressed being irate over the dismissive response of Evans, and that his attitude "…evidently destroyed the tablet." McGee mentioned her correspondence with Sul Ross and Texas Memorial Museum. Mrs. McGee mentioned that a team from Wake Forest University had devoted a lot of time and interest. Dr. Cyclone Covey, Department of History, and Dr. Andronica, Department of Classical Languages, had been researching other unexplained inscriptions in the south and west. McGee then listed several pieces of correspondence with the Wake Forest group.

One piece of correspondence between the Wake Forest University group and the McGees on January 30, 1970, states that the clay tablet inscription "…is surely Greek, but a lot of non-Greeks, both Christian and pagan, wrote Greek, including the Jews, Irish Monks, Phoenicians and Egyptians of many eras (Hellenistic, Roman, Coptic, Eastern Orthodox)." In correspondence on February 10, 1970, Andronica mentioned that there were other characters mixed with Greek that at first glance resemble Hebrew but that they were "...unwilling to commit themselves on this opinion."

On May 1, 1970, McGee expressed to Roland Wauer her opinion that the non-Greek letters were Visigothic. Her work with other strange inscriptions along the Arkansas River system led her to deduce that a big cosmopolitan Roman-Jewish migration had occurred, referring to the "Thurston Tablet" in Tennessee. She also suggested that Wauer should consider the "…Big Bend Tablet might be related to the terminal phase of an expedition that sailed down the Rio Grande from Los Lunas, New Mexico. The main migration went up the Alabama River at Mobile, established forts on mountain heights in Alabama, Georgia and Tennessee in the Chattanooga area, (dropping Roman coins), battled up the falls of the Ohio River near Louisville, proceeded to the Mississippi River, the Arkansas, the Poteau, ultimately even up Cripple Creek, then hiked over to the Santa Cruz and (splitting into separate parties) sailed down a series of rivers in fresh-built boats."
On September 9, 1970, Bernice McGee wrote a two-page letter to Wauer alerting Wauer that she, Mr. and Mrs. Charles Nickles and Mr. and Mrs. Donald Uzzell (co-discoverers of the Big Bend Tablet) would be arriving at the park to revisit the site of discovery. McGee mentioned that Miriam Lowrance from Sul Ross University might be joining the group. In October of that year, The McGees led a return expedition to Big Bend that including the McGees, the Nickles, Uzzells, and Miriam Lowrance. Ro Wauer joined this expedition. A sample of dust and fragments were collected from the crevice where the tablet had been found. Later, in November, the McGees wrote to Wauer saying that the dust and fragments from the discovery site were sent to Dr. Cylone Covey at Wake Forest University. Samples of stream deposit below the discovery site were sent to Dr. Covey and to Dr. Cyrus Gordon of Brandeis University.
On February 10, 1971, Bernice McGee wrote to Wauer discussing progress on publishing the story of the tablet and inquiring about photographs that might be useful in the publication. In May, Bernice McGee wrote to Wauer that their story was accepted by Western Publications. The McGees mentioned their communication with J.O. Langford's daughter, Lovie Langford Whitaker. Lovie provided several excerpts from her father's personal notes regarding places of interest in the Hot Springs vicinity. They further updated their recent communications regarding interpretation of the tablet.

In the meantime, various academic authorities continued to mull over the inscriptions on the mystery tablet. The McGees continued to pursue their interest in ancient legends, stories of unexplained inscriptions and discoveries of ancient Roman coins and other artifacts that are scattered around the Americas. The lure of such pursuits led the McGees to develop their own theories about how these oddities came to be and in the lack of clear scientific basis, their explanations began to take on almost fantastic form.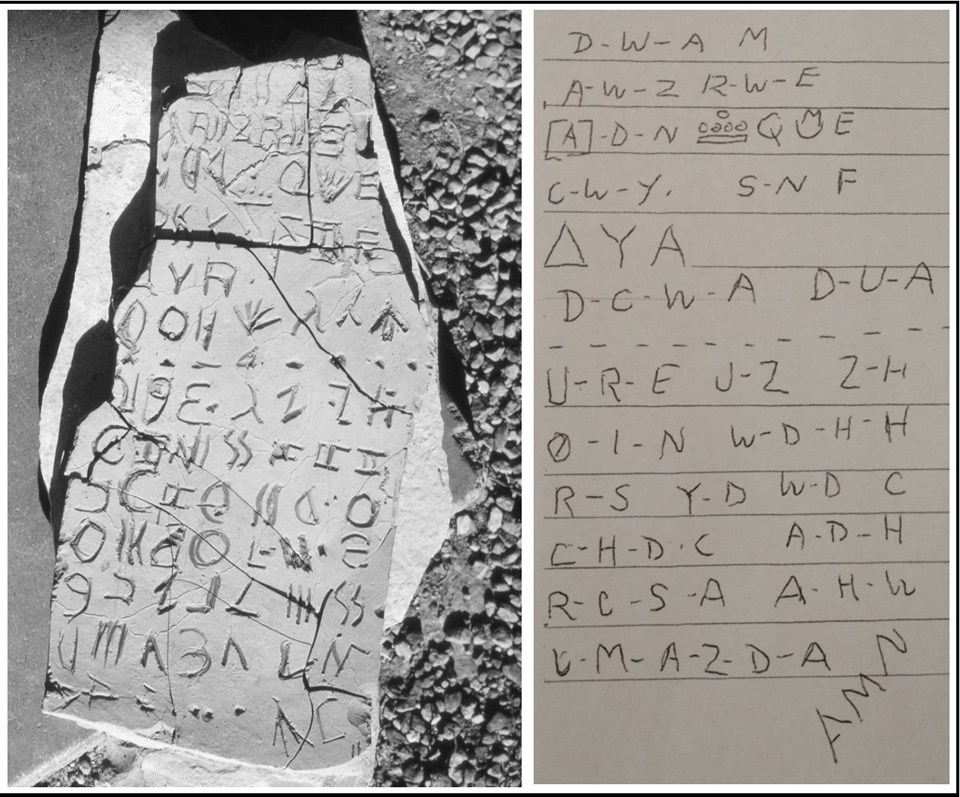 On July 5, 1977, the McGees announced the first translation of the Big Bend Tablet. This translation was provided by Barry Fell from Harvard. It should be mentioned that Barry Fell was a Marine Biologist who had a hobby of fascination with ancient languages but was not a language expert. However, according to Barry Fell, the text is "…written illiterately in Iberic language, very debased Roman-Iberic script, and lines 5 and 6 deliberately written in Iberic, and Lycian." Bernice McGee goes on to correlate the find with Roman-Hebrew artifacts and script that were found near Tucson, the Los Lunas Inscription found on the Puerco River, and now the Big Bend Tablet.
"Why this suffering?
Ah, what anguish!
A call to prayer – 29th December
(First Winter Month) Year 6
Heal us! (Iberic)
Heal us! (Lycian) Heal us! (Lycian)
"The faithful by sorrows are best.
O guide us, Mithras.
Show forth they [sic] power and
the promises of old as
revealed by Ahura –
Mazda.
Amen." - (Signed), Barry Fell
Thus, this mystery was investigated, and conclusions of various kinds have been formed in the minds of those who followed the intrigue.
The first Superintendent of Big Bend National Park, Dr. Ross Maxwell discussed the tablet on pages 10 and 11 in his book Big Bend Country, which was published by Big Bend Natural History Association in 1985. Dr. Maxwell knew the kids growing up at the Hot Springs during its heyday and the kind of mischief with which they entertained themselves. Maxwell's boys were often there with Peter Koch's and the Langford's children.
"Donald Uzzell and others found the "mystery tablet" in a small cave-like cleft in rocky ledges along the banks of Tornillo Creek a short distance above where that creek enters the Rio Grande at Hot Springs in Big Bend National Park. The discovery was made during January 1962; events leading to the discovery and related incidents, with photographs of the tablet, were reported by Bernice and Jack McGee in 1972. The McGees stated that when found, the tablet was in pieces which were stacked upon each other in the sheltered cave about 30 feet above the present stream bed. When the pieces were removed and fitted together, the tablet contained more than 70 characters of a mystery language. The tablet appeared to have been made from Tornillo Creek mud; when found, the material was dry, hard, and showed very little weathering. After photographing the tablet, and before leaving the park, the Uzzell party reportedly gave it to a park naturalist; the tablet lay in the naturalist's office for several months until it disintegrated into powder. Several authorities in language and history have studied photographs of the tablet. Some believe the inscription to be similar to a very old Greek alphabet; others suggest that some of the Greek characters were mixed with another language, perhaps Phoenician or Hebrew. Opinions as to the significance of the tablet, by those who saw it in the park naturalist's office and by those who studied the photographs, varied from great antiquity value to those who suggested that the characters were made by a child doodling in the mud with a stick. Talking with people who were children in the Hot Springs area prior to 1964 lends support to the doodling explanation." – Ross A. Maxwell
Last updated: April 8, 2020