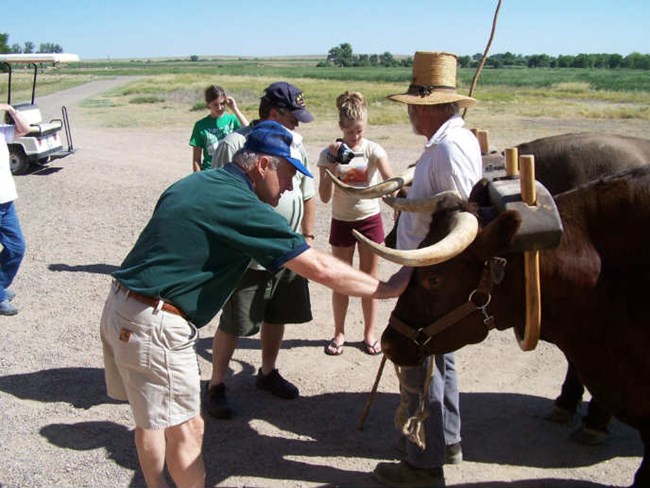 Trails
Shuttle service is available by using the phone in the yellow box at the parking lot shelter for anyone who needs a ride to the fort.The trail is ¼ mile long. It is advised to stay on the trail.It is advised to stay on the trail.Occasionally rattlesnakes are seen along the trail during the warm seasons.There are no facilities on the 1 1.2 mile interpretive trail along the river.Hikers should stay away from the river edge as it may be undercut and could collapse dropping into the river.The river has a very sandy bottom and swimming it not advised.
Livestock
Visitors should not approach the horses and oxen.They are trained for use, but may be annoyed by your presence.The chickens, peacocks, and cats are not pets and should be left alone.
Weather Conditions
Plan to wear clothing appropriate for the season.Summer temperatures can reach the 100s with bright sun.Water is available at the fort and parking lot restrooms in the summer.Winter temperatures can be below freezing.There are a few heated rooms in the fort.
Fort
Visitors are advised to be careful while climbing stairs, walking the second story and entering the rooms.