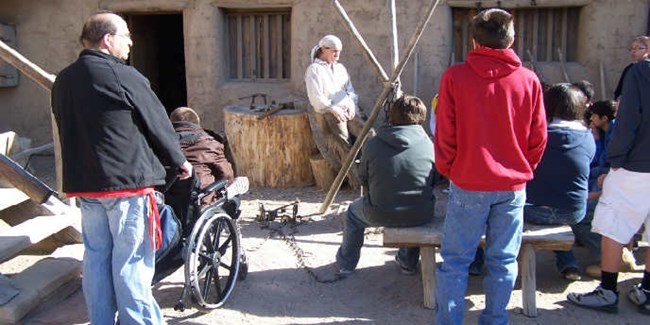 Parking and Wheel Chair Use
Accessibility parking is available at the visitor parking lot. There is a quarter mile walk to the fort from the parking lot to the fort. Shuttle service is provided from the parking lot to the fort by using a phone from a yellow box located at the shelter area. The trail is hard-surfaced and wheel chair accessible if you want to travel to the fort on your own. The instructions on use of the phone are in the box. A cart will arrive at the shelter in a few minutes. After your visit at the fort, contact a period clothed ranger for a ride back. Wheel chairs are available for your use at the fort.
Fort Accessibility
Most of the first floor of the fort is wheelchair accessible. A hand-held player with a tour of the second floor is available.Just ask at the fee area.
Documentary Film
A 20 minute documentary film with caption and visual description is available for viewing next to the fort fee collection room.
Service Animals
Service animals are allowed anywhere in the park.