News Release
Upcoming Project Work at Bandelier Will Affect Visitors This Summer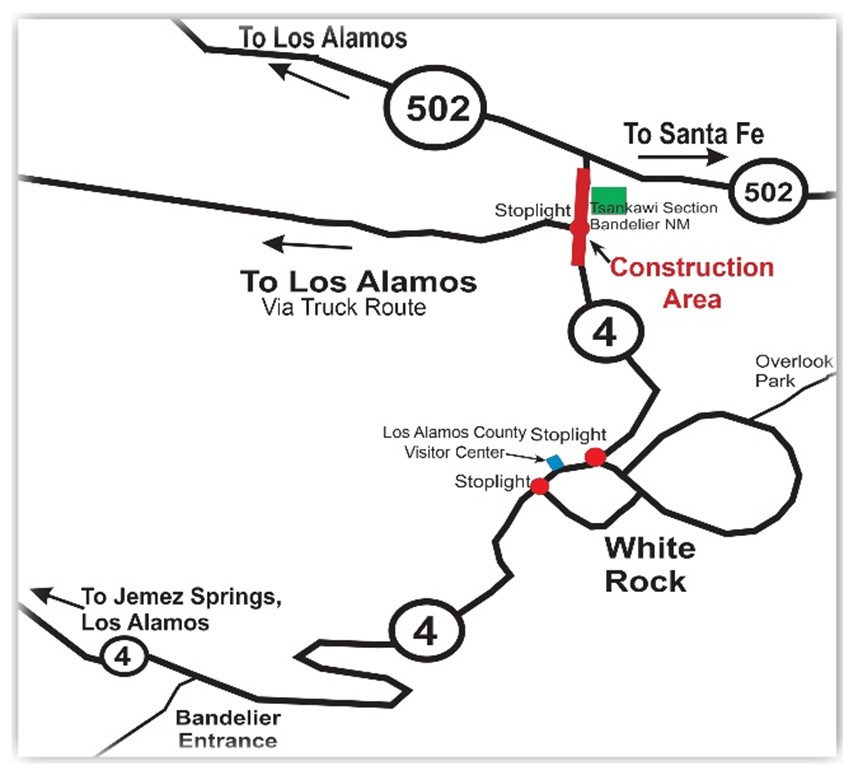 News Release Date:
March 19, 2022
Contact: Joanie Budzileni, 505-672-3861 x 1501
Los Alamos, New Mexico
 – Several projects slated for construction this summer are expected to impact visitors to Bandelier National Monument. Visitors should expect several changes to how and where they can visit the monument.
Projects include improvements to the parking area at the Tsankawi Unit and the mesa top parking lot, just past the main entrance. Construction on a new parking lot and entrance to Tsankawi at the intersection of NM Highway 4 and Jemez Road, the 'Truck Route', to Los Alamos is expected to begin in June and continue through mid-December. This work will coincide with other ongoing roadwork by the State of New Mexico in the same stretch of Highway 4. The improvements will make access to this very popular area of Bandelier safer to enter and exit onto the highway by creating a single point of access to the parking area controlled by a traffic signal. The Tsankawi Unit will be closed while the project is underway as there will be no safe alternative for parking. Visitors should also expect delays when traveling on Highway 4 near Tsankawi. Visitors are advised to take this into account when making plans to travel into the area.   
Work on a project to increase the number of parking spaces in the mesa top parking area, just above Frijoles Canyon, will start at the same time. Sections of the amphitheater parking lot across from Juniper Campground, adjacent to the Frey Trailhead will be closed throughout construction. Shuttle bus access, bus parking and access to the Frey Trailhead will be available during construction. The 
Frey Trail
 provides a beautiful but steep route from the mesa top to the middle of the Pueblo Loop Trail in Frijoles Canyon. 
Summer 2022 is expected to be busy! Visitation to Bandelier is already significantly higher this year. If you are planning to visit the monument this summer, please be flexible in your schedule. Consider visiting other nearby National Park Service areas such as 
Manhattan Project National Historical Park
 in Los Alamos or 
Valles Caldera National Preserve
 to learn about and explore more of the human and natural history of the area. There are several museums and a nature center in 
Los Alamos
, offering more to  discover. At Bandelier, try hiking one of the less visited trails in the park. Bandelier has over 70 miles of trails, some 
long and difficult
, some 
shorter and easier
.   
Last updated: March 19, 2022