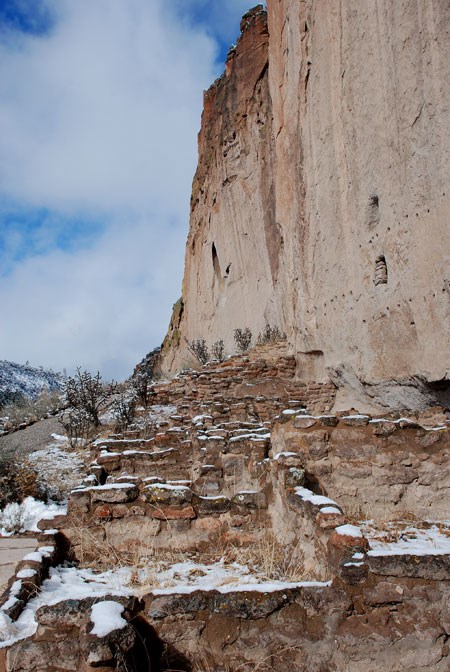 Who used to live here and where did they come from?
Most people agree that the Ancestral Pueblo culture emerged from hunter and gatherer societies that had been living in the Four Corners area for thousands of years. The introduction of domesticated maize from the Valley of Mexico allowed a more sedentary lifestyle and the beginnings of more permanent architecture. At Bandelier archaeological evidence indicates hunter-gatherer occupation dating back into the Paleo-Indian period. A Clovis point found at Bandelier is the oldest artifact. The major Ancestral Pueblo People reoccupation of the area dates from A.D. 1150 to 1550, perhaps partly as a result of migration from the Four Corners area.
What is the connection between Mesa Verde, Chaco Canyon, and Bandelier?
All were sites occupied by people of the Ancestral Pueblo culture, but during different time periods. Mesa Verde: A.D.500-1300 Chaco: A.D. 500-1300 Bandelier- A. D. 1100-1550 Each area reached its residential apex at different times, with Chaco and Mesa Verde prior to Bandelier. During these centuries there was trade and exchange of ideas and migration occurred between these areas. For example, Mesa Verde inhabitants may have briefly reoccupied Chaco sites. Generally speaking there was an overall movement toward areas with more water including the Rio Grande. Some Pueblo migration stories recount how their ancestors moved from place to place, including these well known areas, over time.