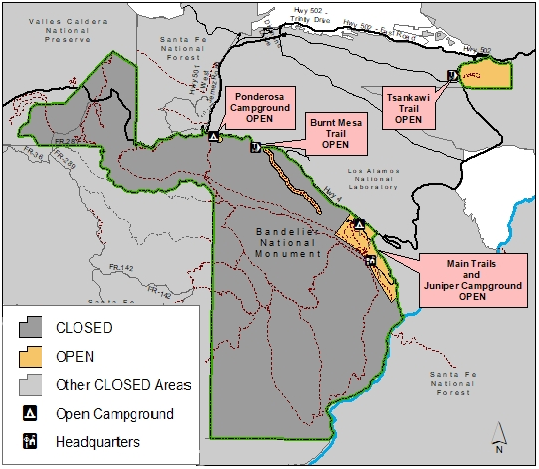 FIRE CLOSURE IN EFFECT






United States Department of the Interior




NATIONAL PARK SERVICE


Bandelier National Monument
15 Entrance Road
Los Alamos, New Mexico 87544-9508




IN REPLY REFER TO:




A9031(BAND)





May 31, 2018






MEMORANDUM





To: Files





From: Superintendent, Bandelier National Monument





Subject: Stage III Fire Restriction in Effect for Bandelier National Monument





Under the provisions of 36 CFR 1.5(a), beginning at 12:01 AM on Friday, June 1, 2018, Stage III Fire Restrictions are in effect for Bandelier National Monument and will remain in effect until superseded. This is a result of high fire danger, low fuel moistures, and regional fire preparedness levels.





Under Stage III fire restrictions, all stage II restrictions apply and the following are prohibited: All outdoor burning; the use of campfire or charcoal grills (gas grills may be used); and all outdoor smoking with the exception of inside vehicles. All wilderness and backcountry areas will be closed to entry except the following trails and Campgrounds: Burnt Mesa, Tyuonyi Overlook Trail, Frey Trail, Ponderosa Group Campground, Juniper Campground, Frijoles Canyon Main Loop and Nature Trail to Alcove House, Falls Trail to Upper Falls, and Tsankawi Trail. All exceptions must be approved in writing through the Superintendent's office.





This determination sets forth the justification as required by 36 CFR 1.5(c) for establishing these temporary Stage III fire restrictions for the entire Bandelier National Monument.





Violation of these conditions can result in fines up to $5000 and imprisonment of up to 6 months.





Under the requirements of 36 CFR 1.7(a), the public shall be notified by placement of signs at normal points of entry including accessible trailheads, the Visitor Center, and Headquarters offices.