News Releases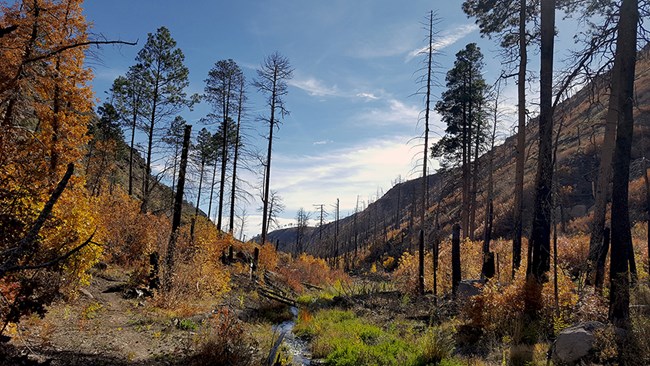 Bandelier Fee Free on Veterans Day
Los Alamos, NM – Since 2006, Veterans Day has been a fee free day at Bandelier National Monument, this year is no exception. On Thursday, November 11, 2021, in honor of those who have served and sacrificed for our county, the National Park Service invites the public to remember and honor our veterans by waiving entrance fees on Veterans Day at all National Park Service. Fee free days provide opportunities to explore new places or enjoy a favorite. Out of more than 400 national parks, just over 100 charge an entrance fee. The entrance fee waiver for fee-free days does not cover amenity or user fees for activities such as camping. For more information, please visit:
https://www.nps.gov/planyourvisit/fee-free-parks.htm
Veterans and Gold Star Family members as well as active-duty military and their dependents qualify for a free Interagency Annual Military pass that provides entry into more than 2000 federal public lands and waters, including all National Park Service sites. Annual Military passes cover all occupants of one private vehicle or up to 4 individuals at per person fee sites. Passes are valid for 12 months. Annual Military passes may be obtained in-person with valid veteran or military ID at participating federal fee areas, including Bandelier. They may also be obtained online through the USGS store ($10 processing fee for passes obtained online). For more information about the Annual Military pass and accepted forms of ID, visit:
https://www.nps.gov/planyourvisit/veterans-and-gold-star-families-free-access.htm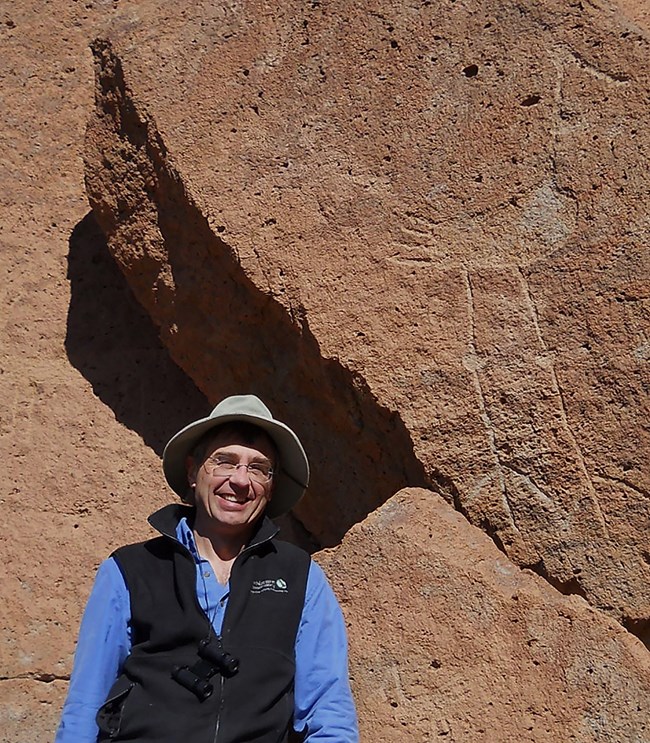 USGS/Bandelier Employee Receives Distinguished Service Award
Los Alamos, NM
–
Dr. Craig Allen, long time employee of the U.S. Geological Survey (USGS) stationed at Bandelier National Monument, was awarded the highest honor in the Department of the Interior, the Distinguished Service Award. Dr Allen was recognized for over 35 years of federal service, sharing his expertise as a world-renowned authority on forest and landscape ecology, with extensive knowledge in the consequences on climate variability and change, including the occurrence of drought, wildfires and broadscale tree die-offs.
Dr. Allen established and led the Jemez Mountains Field Station that continues to generate a rich legacy of ecological data and unrivaled understanding of landscape change over space and time in northern New Mexico, under the new name of New Mexico Landscapes Field Station. Through the field station, ongoing collaboration between Santa Fe National Forest, Bandelier National Monument, the Valles Caldera National Preserve, and Los Alamos National Laboratory (LANL) continues. Dr. Allen's documentation of the Valles Caldera's unique landscape was crucial to establishing the area as a National Preserve in 2000. His efforts advanced Bandelier as one of the most active and progressive resource-oriented units in the entire national park system. Dr. Allen's research on landscape change motivated state-of-the-art restoration of degraded, eroding woodlands as a top management priority at Bandelier, informed management actions adopted by the U.S. Army Corps of Engineers and Bureau of Reclamation, contributed to changes in risk assessment for hazardous waste cleanup and containment efforts at LANL, and led to a widely cited publication on the ecological restoration of Southwestern ponderosa pine forests. Dr. Allen's insight into ponderosa and pinyon pine mortality during the 1950's drought and the "hot drought" of 2002-2003 profoundly changed how resource managers today think and act regarding the effects of climate change.
Dr. Allen retired from federal service in early 2021. He continues to work as a volunteer at Bandelier and provide his expertise in important decision making. He and his wife, Seva, live north of Santa Fe. He continues to be involved with local, national, and global forest and climate change issues.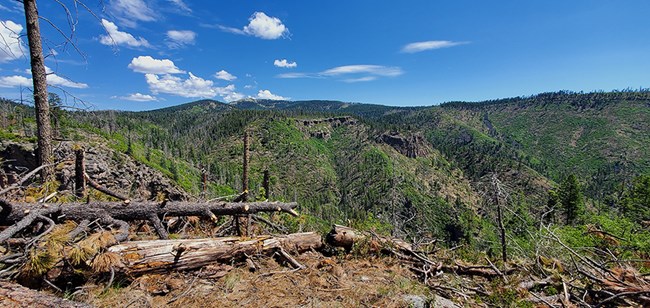 Public Input Period Extended for Proposed Bandelier Air Tour Management Plan
LOS ALAMOS, N.M. – The National Park Service (NPS) and the Federal Aviation Administration (FAA) are extending the public comment period on the draft Air Tour Management Plan (ATMP) proposed for Bandelier National Monument. Due to an error recently discovered on the project's Planning, Environment and Public Comment (PEPC) home page, the comment period has been extended through October 13, 2021, to allow ample time to review materials.
The error resulted in the inclusion of one sentence referencing another national park unrelated to Bandelier National Monument. The following unrelated sentence should not have been included: "The ATMP is consistent with the Park's 1999 General Management Plan and subsequent planning efforts in that it includes a provision on phasing out air tours through attrition." This sentence has been appropriately removed. The statement only applies to Glacier National Park and refers to the Glacier 1999 General Management Plan. It was erroneously included on the Bandelier National Monument ATMP PEPC page but is not included in, or relevant to, the ATMP for Bandelier National Monument. The original September 10, 2021 press release describing the process and the alternatives outlined in the draft ATMP document for which comments are requested remains accurate. No additional changes or updates were made to the materials.
The agencies encourage anyone with an interest in or concern about air tours over Bandelier National Monument to review and comment on the draft ATMP. The proposed plan would authorize up to 101 commercial air tours per year on defined routes. There were on average 101 air tours per year conducted by one air tour operator reported at Bandelier National Monument from 2017 – 2019.
Public feedback can be provided through the PEPC website through Wednesday, October 13, 2021. The NPS and FAA will consider comments to help inform the final ATMP for Bandelier National Monument. The project website is available at:
Parkplanning - Bandelier Air Tour Management Plan (nps.gov)
The FAA and the NPS have determined that the ATMP constitutes a Federal undertaking subject to compliance with Section 106 of the National Historic Preservation Act and its implementing regulations (36 CFR Part 800). The FAA and the NPS will continue consultations with Tribes, State and Tribal Historical Preservation Officers, and other interested parties to identify historic sites and assess the potential effects of ATMPs on them. There is no deadline for these ongoing consultations.
Please visit
this NPS site
and
this FAA site
for more detailed information about air tour management plans.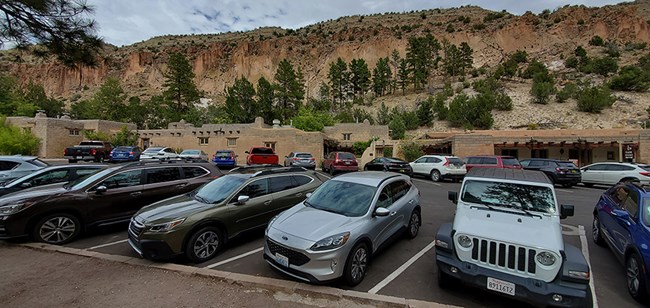 Bandelier Expects Crowded Conditions Now Through Mid-October: Visiting Outside Peak Hours Highly Encouraged
Los Alamos, NM – With the increase in visitor numbers to Bandelier National Monument this summer, park staff are predicting that visitation will surge during the Albuquerque International Balloon Fiesta, October 2-10, 2021. There will be a free shuttle from White Rock into Frijoles Canyon available on Saturdays and Sundays only, from 9am-5pm. Use of the shuttle is highly recommended. If you arrive when the park is at capacity, you may be directed back to White Rock to pick up the shuttle or to visit other areas of the park. Parking frequently fills in the busiest area of the monument – Frijoles Canyon; vehicles have been turned away several times this summer. Bandelier is a favorite destination for many balloon fiesta goers. The park is open sunrise to sunset every day and the public is encouraged to visit before 10 am or after 3pm to avoid crowded parking lots and trails. Why not arrive early and enjoy cooler temperatures and shorter wait times to climb one of the ladders on the very popular, 1.4-mile Pueblo Loop Trail? "To help everyone have a safe and enjoyable visit, please plan appropriately for a visit to Bandelier's protected Ancestral Puebloan sites in Frijoles Canyon," stated Superintendent Patrick Suddath. He added, "I encourage everyone to help us reduce traffic in this area by avoiding the mid-day rush, or by taking the free shuttle when it's available." Visitors are reminded to #RecreateResponsibly.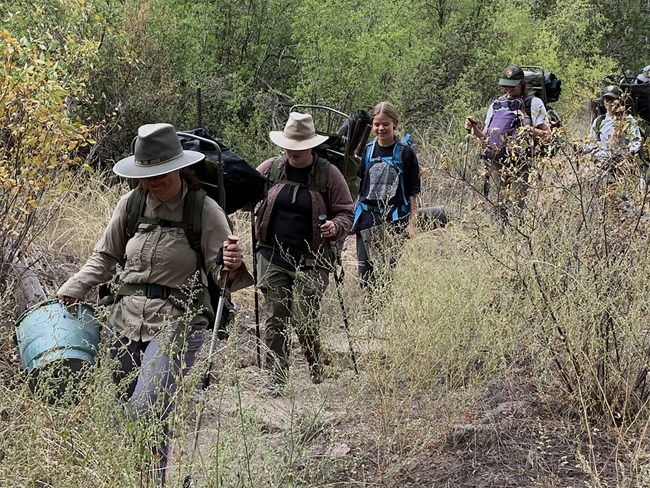 Bandelier Wilderness Cleanup a Success
Los Alamos, NM: – Volunteers and National Park Service employees helped celebrate National Public Lands Day (NPLD) at Bandelier National Monument by removing equipment from Bandelier's backcountry during the wilderness cleanup this weekend, Saturday and Sunday, September 25th and 26th. Materials from eight different discontinued projects were broken down, consolidated, and packed out on the backs of participants.
A group of 34 people, spent about 16 hours, traversing over 57 miles of rough canyon and mesa country topography with heavy packs to help keep Bandelier's wilderness pristine. Most of Bandelier, over 23,000 acres, was designated as wilderness by Congress in 1976. September is also National Wilderness Month and a great time to focus efforts on cleaning up federal wilderness areas, which is what event organizer and Chief Ranger Dennis Milligan had in mind. "I really appreciate the support of our volunteers and staff in this effort. The project would not been possible without their hard work and enthusiasm," stated Milligan.
Most of the public visits the front country areas of the monument, including the very popular Frijoles Canyon. Bandelier has received over 174,000 visitors so far this year. Those who venture out into the backcountry are rewarded with beauty and solitude. Efforts this weekend help preserve wilderness character and keep Bandelier's Wilderness wild.
National Public Lands Day was established in 1994 and is traditionally known as the nation's largest single-day volunteer effort for public lands. NPLD celebrates the connection between people and green space in their community, inspires environmental stewardship, and encourages use of open space for education, recreation, and health benefits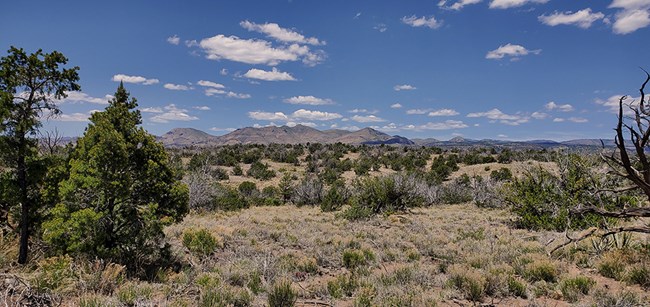 Bandelier Celebrates National Public Lands Day, Saturday, September 25, 2021

Los Alamos, NM
– Often just known as NPLD, National Public Lands Day was established in 1994 and is traditionally known as the nation's largest single-day volunteer effort for public lands. NPLD celebrates the connection between people and green space in their community, inspires environmental stewardship, and encourages use of open space for education, recreation, and health benefits. Bandelier National Monument and other National Parks that normally charge entrance fees, will be free of charge on Saturday, September 25, 2021. The park store in Frijoles Canyon operated by Western National Parks Association, will offer a 15% discount on all purchases. However, you choose to celebrate your public lands, be sure to
RecreateResponsibly!
In addition to free entry for all visitors, Bandelier will be having Wilderness Cleanup Days on September 25th and 26th. In honor of National Public Lands Day (September 25th) and National Wilderness Month (September) park staff and volunteers will be conducting several cleanup projects in Bandelier National Monument's Wilderness. The cleanup projects are aimed to help preserve the wilderness character and keep Bandelier's Wilderness wild.The projects will involve deconstructing and packing out trash from Bandelier's wilderness.
Due to the nature of the cleanup projects, volunteers should be in a good physical condition, able to hike up to 5 miles a day with a heavy pack and elevation changes. Volunteers will need to supply their own hiking/camping gear. Volunteers can help on Saturday or Sunday or both days if they wish! There will also be an overnight backcountry project going from Saturday to Sunday for those interested. If you are interested in volunteering, please email Wilderness Ranger Mark Peterson at mark_m_peterson@nps.gov or call (505) 672-3861 x1442.
The next and last fee free day for 2021 will be on Veterans Day, November 11.For more information check out:
https://www.nps.gov/subjects/npscelebrates/public-lands-day.htm

Last updated: November 5, 2021