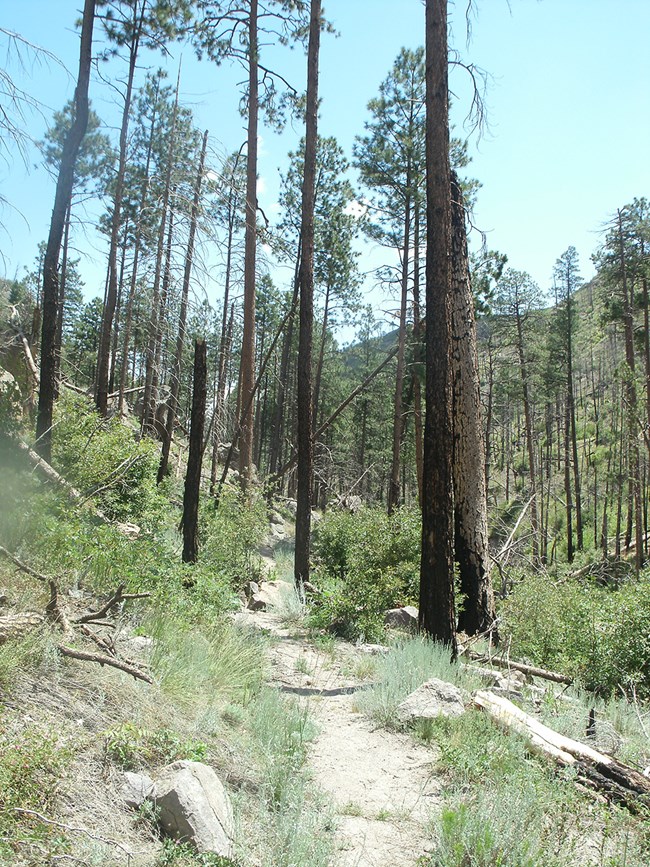 The Frijoles canyon trail is a very popular 8 mile one way hike from Ponderosa group campground to the Visitor Center. This trail has just been rebuilt after the Conchas fire and subsequent flooding, and is now in great condition. From Ponderosa campground the trail descends into the canyon bottom and turns left along the creek and canyon bottom towards the Visitor Center. Take the time to enjoy the incredible rock formations and relax in the peace and quiet that is becoming so hard to find in our modern world. Be prepared to get your feet wet as there are no bridges, but the water is usually no more than a couple of inches deep.

The Frijoles Rim trail is located on the mesa above Frijoles canyon. From Cottonwood picnic area by the Visitor center, take the Long trail to the Frijoles Rim trail. It connects to the Mid Frijoles trail at the upper crossing of Frijoles creek and allows you to turn this into about a 13 mile loop. This trail gives you expansive views of a good portion of Northern New Mexico and several mountain ranges.
Please note: Conditions are subject to change, depending on summer rains and flood events.