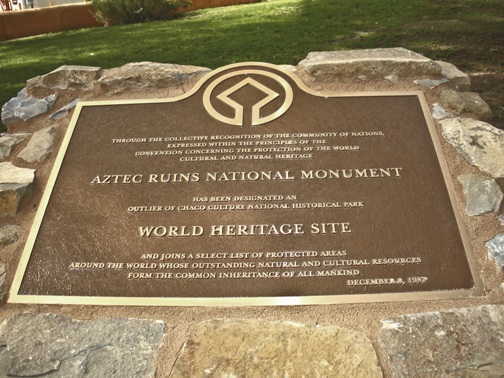 News Release Date:
January 30, 2012
Contact: Lauren Blacik, 505-334-6174 x228
All-day celebration will be held on Friday, February 24.
In 1987 Aztec Ruins National Monument was made a UNESCO World Heritage site as part of the Chaco Culture designation to recognize the uniqueness of the archeological sites protected in the park. The sites of Aztec Ruins are some of the largest and best-preserved examples of the complexity of ancestral Puebloan culture flourishing in the Southwest between 850 and 1300AD.  Today there are still only twenty World Heritage sites in the United States, which puts Aztec Ruins in the elite company of Yellowstone, the Statue of Liberty, and the Everglades.
The United States led the way in creating a World Heritage designation to protect the most culturally and naturally important places in the world and was the first nation to ratify the 1972 World Heritage Convention. Now the 1972 Convention has been ratified by more countries than any other United Nations treaty.  Some of these member nations are developing countries that do not have established systems to preserve their heritage, so the U.S. National Park Service has become a model for countries across globe. Here in the United States, the Park Service nominates sites for designation and remains their steward. The United Nations does not manage or fund the park in any way.
World Heritage designation still benefits us immensely because it demonstrates just how important to human history this park is. The archeological sites we protect are outstanding examples of a cultural unity unlike anything before or since in the history of the Southwest. Visitors from all over the world come to Aztec Ruins because of its World Heritage designation.
The 25th anniversary celebration will bring deserved attention to the honor of World Heritage designation. Entrance fees will be waived all day on February 24 so the public can attend the celebration for free. Aztec Ruins will offer a unique World Heritage junior ranger badge and certificate all day and show documentary videos about World Heritage.
That evening National Geographic Fellow Jonathan Tourtellot will give a presentation on the history and importance of World Heritage at 6:00pm in the Visitor Center. Mr. Tourtellot is known for developing the concept of geotourism. He created National Geographic's MapGuide, which is a way for sustainable destinations large and small to promote themselves. Aztec Ruins and a number of other sites in northwestern New Mexico are listed. Mr. Tourtellot is also an editor and journalist for National Geographic Traveler magazine. He has given presentations for national and international audiences, including the U.N. World Tourism Organization, UNESCO, and the World Travel and Tourism Council.
A limited number of specially made commemorative coins will be distributed during the event.