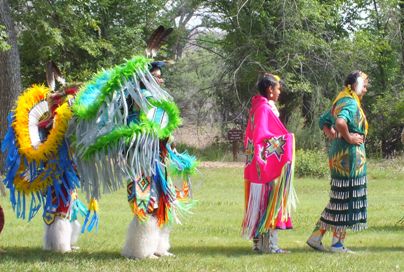 News Release Date:
June 26, 2012
Contact: Lauren Blacik, 505-334-6174
According to park estimation, not since the 1200s has there been quite that big a crowd at Aztec Ruins. The National Park Service and the City of Aztec worked together to plan and host an event that made waves across the Four Corners after National Geographic chose Aztec Ruins National Monument as the launch site for its new Four Corners Geotourism Destination Map. The day featured a program in the Great Kiva, numerous cultural performances, and a geotourism fair sprawled across the picnic area. The event coincided with Fiesta Days and National Trails Day.
In anticipation of large crowds, Aztec Ruins closed on-site parking and, instead, offered free rides on public transportation between various event sites. Red Apple Transit, a division of the City of Farmington, generously provided four buses and drivers. Rangers were stationed on each bus to give roving interpretation, and Aztec's Junior ROTC directed traffic and parking in the lots. In addition to riders from across New Mexico, drivers reported meeting visitors from Colorado, Montana, Texas, and California.
Aztec Trails and Open Space worked with San Juan College to shuttle participants from the Government Center to a free raft ride down the Animas River. "Our primary goal for these activities was exposing the public to the whole concept of geotourism," says Tracy Bodnar, the Chief Ranger at Aztec Ruins. "It's an innovative way to increase travel to regions like the Four Corners."
In January 2012, President Obama released the nation's first Travel and Tourism Strategy in recognition of the crucial role tourism plays in our economy. In that strategy, he identifies the importance of local efforts. In many ways, local involvement is at the heart of geotourism, which seeks to sustain or enhance the unique geographic character of a place, such as its culture, heritage, or environment. The geotourism map and website gives Four Corners destinations of all sizes a vehicle for appealing to audiences across the globe.
Any destination-hotel, restaurant, archeological site, visitor center, event, etc.-can nominate itself to the online MapGuide (http://www.fourcornersgeotourism.com/). This directory has an international following and is a wonderful way for smaller locales to get exposure without spending a dime on advertising. Indeed, many local businesses reported spikes in sales over the June 2 weekend. Sunshine Bakery and Deli was exceptionally busy Saturday and Sunday. The Aztec Pioneer Village and Museum saw six times its average visitation.
The City of Aztec worked in close partnership with the park to plan and sponsor the event. Superintendent Larry Turk and Mayor Sally Burbridge greeted the public at a multi-agency presentation held in the Great Kiva to kick off the day's festivities. "Geotourism is a way to promote the authentic history and culture of our City," said Mayor Burbridge. Cliff Spencer, Superintendent of Mesa Verde National Park, addressed the importance of National Trails Day and outdoor opportunities to geotourism. Other presenters represented Acoma Pueblo, Northwest New Mexico Council of Governments, the BLM, Zuni Pueblo, Trail of the Ancients National Scenic Byway, and National Geographic.
The event spotlighted numerous tourism opportunities in the region with a geotourism fair. Vendors set up pavilions to share their location or craft with the public. Sitting comfortably in the shade of native cottonwoods, Navajo poet Tina Deschanie read children's stories to families as they took a break from touring in the hot sun. Across the picnic area, Mesa Verde's Chief of Interpretation helped guests plan future visits to the park, and Salmon Ruins volunteers signed up travelers for an excursion to their site later that afternoon.
Tourism is a crucial piece of the Four Corners economy for states and tribes alike. We hope events like this encourage growth in a way that honors the fantastic resources we protect and ensures their preservation for generations to come. "We're not done with geotourism," says Superintendent Turk. "There is enormous potential in the MapGuide to increase visitation to the Four Corners. Our outreach efforts are only getting bigger."