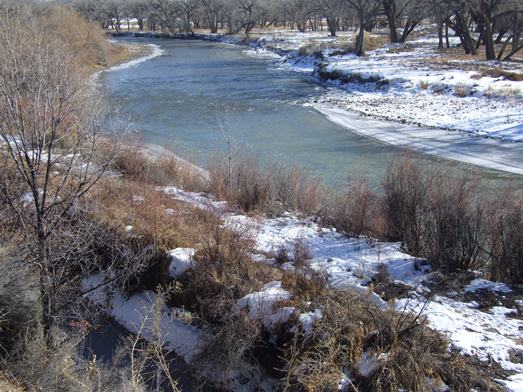 News Release Date:
February 21, 2013
Contact: Superintendent Larry Turk, 505-334-6174 x222
Aztec, NM - On Tuesday, Feb. 19, U.S. Transportation Secretary Ray LaHood announced $12.5 million in grants to improve access to America's national parks, forests, and wildlife refuges. A new pedestrian and bicycle trail planned in a partnership of Aztec Ruins National Monument and the City of Aztec is one of only 29 projects nationwide to receive these funds. The pedestrian trail was selected because it will allow thousands of people to more easily visit the monument. The funds are provided through the Federal Transit Administration's (FTA) Paul S. Sarbanes Transit in Parks program.
The trail will give visitors to the monument an appealing alternative to driving. It will run from historic downtown Aztec, across a new bridge over the Animas River, and to the park visitor center and archeological site. The route follows a section of the Old Spanish National Historic Trail, the 1,000-mile course that pack mule trains followed from Santa Fe west to Los Angeles in the 19th century. Trail users will be able to enjoy the riparian ecosystem of the Animas River and the park's new heritage garden with traditional crop varieties. The heritage garden is tended by volunteers and Aztec High School JROTC cadets using traditional methods.
"This funding gives the monument and the city tremendous opportunities for growth, both economically and recreationally. We look forward to providing visitors a safe, environmentally friendly, and scenic walking and cycling route into the park," said monument Superintendent Larry Turk.
Among other projects funded by the FTA grants are energy-efficient buses at Glacier National Park in Montana and the expansion of a multi-use trail system between the town of Estes Park and Rocky Mountain National Park in Colorado. A map and a complete list of projects can be found here.
Aztec Ruins and the City of Aztec will receive a total of $454, 828 in grant funds. They developed the trail project and wrote the application as partners. Attila Bality of the National Park Service Rivers, Trails & Conservation Assistance Program office in Santa Fe also helped design the new trail. This successful grant application is another example of the strong partnership between the park and city. In 2012, the pedestrian trail project was named one of President Obama's America's Great Outdoors sites.
"America's Great Outdoors has always been about making the government a better partner to communities across the country," said Secretary of the Interior Ken Salazar, whose department includes the National Park Service and Aztec Ruins. "The 2013 Paul S. Sarbanes Transit in Parks grants are an excellent example of how the department is working with other federal agencies to align funding with priorities in support of improving access to our nation's parks, refuges, and national treasures."
The new pedestrian and bicycle trail will provide local students an easy walk from their classrooms to Aztec Ruins for field trips. Guests staying, shopping, or dining in Aztec will be able to visit the park without having to drive. Finally, residents of Aztec will have a convenient way to visit a UNESCO World Heritage Site in their own back yard. Construction on the new trail and bridge is expected to start this summer.