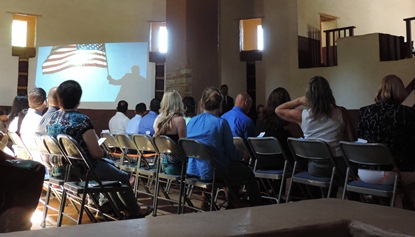 News Release Date:
June 14, 2013
Contact: Visitor Center, 505-334-6174
"What a fitting location for a citizenship ceremony," commented many of the celebration's speakers. On June 7, ten new Americans took their citizenship oaths in a place sacred to the first Americans, the Great Kiva at Aztec Ruins National Monument. The new citizens hailed from Canada, Ecuador, Germany, Honduras, and Mexico, and one young man was an active-duty member of the U.S. Air Force.
The National Park Service and U.S. Citizenship and Immigration Services partnered to host the unique event. Many of the honorees and their families arrived early to tour the Monument. Aztec High School JROTC cadets welcomed them as they were seated in the Great Kiva, where they found programs, bandanas, and park coins to commemorate the special day. The JROTC presented the colors, park volunteer Marie Jensen sang a beautiful a-cappella National Anthem, and Chief District Judge M. Christina Armijo presided over the ceremony. Several other speakers congratulated the new citizens, including Mesa Verde Superintendent Cliff Spencer, City of Aztec Mayor Sally Burbridge, and Aztec Ruins Superintendent Larry Turk, who offered the keynote address.
As the ceremony concluded, the sound of drums began to echo across the plaza outside. Guests emerged from the Great Kiva to see the Haak'u Buffalo Dancers performing traditional Pueblo dances. Back in the Visitor Center the Friends of Aztec Ruins served a festive cake, decked out in stars and stripes. Judge Armijo generously stayed until she had her photo taken with just about every guest, including the dancers.
Throughout the ceremony, the speakers urged the new citizens to be active in civic life and find ways to make their community a better place. We hope they return to Aztec Ruins as visitors, volunteers, and Friends members.