Aztec Ruins to Host Annual Evening of Lights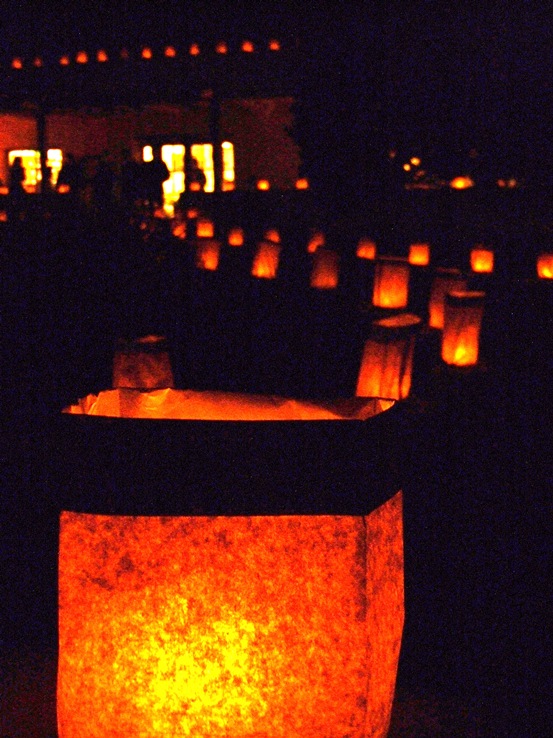 News Release Date:
November 22, 2013
Contact: Visitor Center, 505-334-6174
On Thursday, December 19, 2013, Aztec Ruins National Monument will host its annual Evening of Lights.  The event celebrates New Mexico traditions by observing the winter solstice and displaying luminarias. Arrive by 4:45pm to see the winter solstice alignment; stop by anytime between 5:00 and 8:00pm to enjoy the luminarias, lanterns, cultural demonstrators, and refreshments.
Park rangers will lead visitors from the visitor center to a winter solstice marker at 4:45pm. For this special off-trail activity you must be escorted by a ranger; please wear sturdy walking shoes. Unfortunately, guests arriving at the visitor center later than 4:45pm will not get the opportunity to view the alignment.
Possible solar and even lunar markers can be found throughout the ancestral Pueblo southwest. People kept their ritual calendars using the movement of the sky. Some astronomical markers, like the winter solstice alignment at Aztec Ruins, can be viewed by many people at one time, and others are in spaces accessible only by a few people at once. Most modern Pueblo tribes have historical traditions of sunwatchers who are trained from a young age to track important times of year by the sun and stars.  
If you'd like to learn more about how the ancestral Pueblo people marked the winter solstice, the shortest day of the year, ask a ranger or check out the archeoastronomy selection in the Western National Parks Association bookstore. Teachers can also arrange for a ranger to come speak in their classroom.
After the sun sets enjoy a beautiful luminaria and lantern display, cultural demonstrators showing their works, and cookies and hot cocoa. Luminarias will line the historic visitor center and electric lanterns will illuminate the archeological site. Lots of volunteer work goes into creating the display for community members to enjoy. Aztec Ruins volunteer Jean Noe has folded over 1,500 paper bags during her weekly shifts. "Sometimes I get on a roll and just want to finish a whole stack!" she says. Third graders from Lydia Rippey Elementary School walk to the park to fill the bags with sand. On the day of the event, all park employees and volunteers spend the day placing the bags.
Phyllis Etcitty, a Navajo silversmith; Florinda and Lee Vallo, Acoma Pueblo potters; and others will demonstrate their traditional crafts and have items for sale in the visitor center. The Friends of Aztec Ruins National Monument, a non-profit organization that supports the park, will serve cookies and hot cocoa. The event is free and open to the public.
The park's regular winter visitor hours are from 8:00am to 5:00pm, 7 days per week. The park will be closed on December 25 and January 1st. Call 505-334-6174, visit www.nps.gov/azru, or check Facebook for more information.
Last updated: February 24, 2015