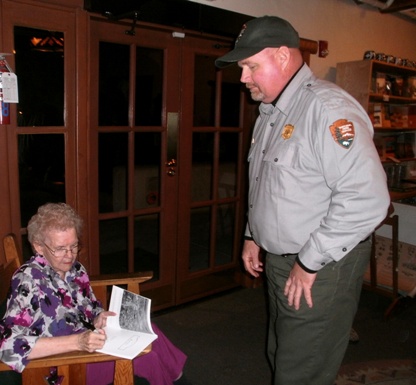 News Release Date:
January 30, 2012
On January 24, 2012, Aztec Ruins National Monument hosted its 89th birthday party. The monument came under the protection of the National Park Service in 1923 by executive order of President Warren G. Harding.
The road to federal protection was rocky. The American Museum of Natural History had paid for excavation of much of West Ruin from 1916 to 1923 under Earl Morris. After funding for the research ran dry, the Museum looked for a permanent administrator. The National Park Service knew that preserving such enormous archeological sites would be an expensive undertaking, but eventually they accepted then-Aztec Ruin into their care.
Over time, of course, the park received more attention and visitation grew. Recently, the President's Great Outdoors Initiative recognized Aztec Ruins for the river corridor trail being built as a joint effort between the monument and city. Twenty-five years ago it became a World Heritage site.
The public birthday party was a celebration of that growth. Over 40 visitors turned out for the event, which is a high draw for January. Marilu Waybourn, prolific local historian, spoke on the quirks of researching her just-published book Aztec: Images of America. Following her presentation, many local people stood and shared their stories of childhood around the ancient site.
Superintendent Larry Turk also awarded an Aztec Ruins annual pass to the first-ever photo contest winner. Lisa Jennings of Farmington submitted the photo that is featured on the 2012 AZRU annual pass.
The park looks forward to its 90th next year.