Date:
September 10, 2010
Contact:
Carl S. Zimmerman, 410-629-6071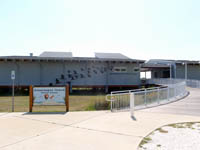 Superintendent Trish Kicklighter announced today that the grand opening of the new Assateague Island Visitor Center will be held on Saturday October 2, 2010 from 1:00 to 3:00 PM. The visitor center is located at the foot of Verrazano Bridge, adjacent to park headquarters on Route 611. The new Visitor Center replaces the original, undersized and outdated facility built in the 1960's shortly after the National Seashore was established.

"It's an exciting time to be at Assateague," said Kicklighter. "We've been waiting to construct a new Visitor Center for more than 20 years, and now it's finally happened. We're thrilled to introduce this wonderful new facility to the community".

The Visitor Center features expanded exhibits on the Island's natural resources and cultural heritage, new aquariums, and a larger auditorium for presentations and movies, including the new film about Assateague's wild horses. "The new Visitor Center is the perfect starting point for any trip to the Island, providing both new and returning visitors a wealth of information about the Seashore and its many recreational opportunities," said Rachelle Daigneault, Chief of Interpretation. "It will also provide a larger and much more engaging venue for the many environmental education programs held at the park".

The 10,000 square foot building includes more than 6,000 sq ft of indoor exhibit space, new staff offices, decks with rocking chairs and views of the bay, outdoor exhibits and way-finding maps, and restrooms accessible 24 hours a day. Completed in mid-August, the visitor center was constructed by Southern Builders, Inc. of Salisbury, Maryland.

The Visitor Center includes all new exhibits to help tell the many stories of Assateague Island. Some explain the natural processes responsible for keeping Assateague constantly on the move and the challenges of climate change. Others speak to the wonders of life above and below the waters of the Atlantic Ocean and Coastal Bays. Still others focus on the role that humans have played on Assateague Island, including exhibits on the U.S. Lifesaving Service and shipwreck artifacts loaned by the government of Spain. And, of course, there's plenty of information about the Island's most famous residents – the Assateague horses.

The Grand Opening will take place at 1:00 PM on Saturday October 2, 2010 and include remarks by local and national dignitaries, and a ribbon cutting ceremony. An open house with refreshments will follow. Children will receive a memento of the grand opening and there will be drawings for special gifts throughout the afternoon.

The new Assateague Island Visitor Center is located on Route 611 at the base of the Verrazano Bridge, just east of park headquarters.