News Release
Assateague Island National Seashore Wild Horse Fatality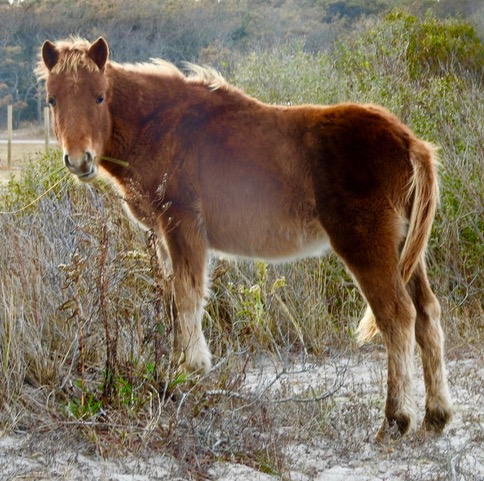 News Release Date:
September 30, 2019
Contact: Liz Davis, 410-629-6087
Berlin, MD-On Sunday morning, September 29, a horse was struck and killed by a park vehicle on Assateague Island. The chestnut mare, N2BHS-ALQ (Connie's Girl) was standing in the road on curve on Bayberry drive in the predawn hours, before first light when the park vehicle struck the hind quarter of the horse. The park employee was uninjured and the incident is under investigation.
N2BHS-ALQ was born in April 2018 to mare N2BHS-AL (Ms. Macky) with the likely sire N9BM-E (Yankee). The band frequented the developed area and campgrounds of Assateague Island National Seashore and Assateague State Park. Wildlife, including the horses roam freely throughout their island habitat, including park roads. N2BHS-ALQ is the 34th horse to be hit and killed on the island since 1982; another 17 horses have been hit and injured. As always, the loss of one of our horses saddens park staff. The National Park Service reminds everyone to be alert when driving on Assateague Island, especially at night. 
Last updated: September 30, 2019