Date:
June 29, 2013
Contact:
Rachelle Daigneault, 410-629-6088
Contact:
Liz Davis, 410-629-6087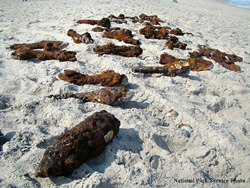 Berlin, Maryland – Members of the Baltimore District Army Corps of Engineers Explosive Safety Office have completed an instrument assisted visual survey of 100% of the North Ocean Beach area of the National Seashore and southernmost area of Assateague State Park beach, both previously closed to the public. The team spent two days sweeping the beach with sophisticated instruments for unexploded ordnance and debris from World War II when Assateague was used as a practice site. All items recovered during this survey were deemed to be inert (safe). No live ordnance or evidence of live ordnance was recovered during the survey. Given the findings of the assessment team, officials at Assateague Island National Seashore and Assateague State Park have determined that the area is now safe for public access and will reopen. Visitors should remember that Assateague is a dynamic place and it is still possible for fragments, debris and other ordnance to become exposed at any time. These items should still be treated with respect. Visitors should follow the 3Rs, "Recognize, Retreat, and Report." Call 410-641-1441, and press 3 and then 1 to report any questionable metal beach debris.
A portion of Assateague's North Ocean Beach and southernmost portion of Assateague State Park beach were closed Tuesday, June 26 after a piece of beach debris turned in the previous day by a visitor was identified as a fragment of unexploded ordnance from World War II. After consulting with the Ocean City Bomb Squad, per park protocol, the Emergency Ordnance Disposal team from Aberdeen, Maryland was called in. Further evaluation revealed more than 100 pieces of debris and unexploded ordnance, which were then destroyed in controlled blasts. Access to the national seashore was closed during this time and beaches in proximity to the North Ocean Beach area were evacuated for the duration of the events. Following the controlled detonations, officials at Assateague Island National Seashore, in consultation with the Department of Army determined the Army Corps of Engineers should be consulted before reopening the ¼ mile section of closed beach.
All measures are being taken to ensure the public remains safe, and informed about access and closures. The national seashore is now open to the public. All parking areas ocean and bayside are open at both Assateague Island National Seashore and Assateague State Park. Camping is also open. Visitors with questions should call 410-641-1441 between 9 a.m. and 5 p.m.
For more information on Assateague Island National Seashore, visit www.nps.gov/asis/.