Wildland Fire Management Personnel
This article is part of the Wildland Fire Learning In Depth series. It is designed for students who want to learn more about fire. Find the complete series on the Fire subject site.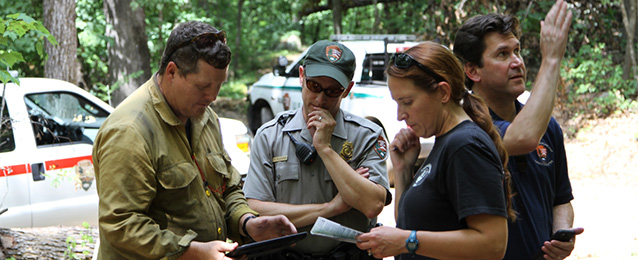 Personnel Involved in Fire Management
It takes many different types of people with a variety of skills to manage a fire program in the national parks. These include managers, scientists, firefighters with diverse skills, as well as people behind the scenes that support the firefighters in their efforts.
Fire Management Officer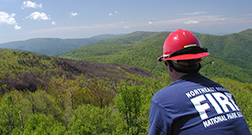 A fire management officer, or FMO, has oversight of a park's fire management program, or may serve multiple parks in a geographic area. The FMO may work for a chief ranger at a large park; at a smaller park, the FMO position may be a collateral duty for the chief ranger, chief of resource management, or other position.
The FMO supervises fire management staff, including those positions listed below. He or she must be knowledgeable about firefighting tactics as well as goals and objectives to be achieved through the park's fire management plan, which outlines wildland fire response and use in a park.
Support Staff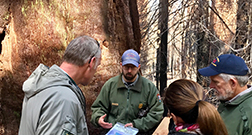 Behind the scenes, additional staff may serve in a support role to make everything run smoothly in a fire management program. Not every park has these support roles, or they may be shared across park boundaries.
A fire program management assistant (FPMA) runs the day-to-day administration of the program. He or she may also have a role in administering the budget, or that may be done by a budget analyst. In addition, some parks have a fire communication and education specialist to communicate with the public as well as the internal park audience about the park's fire management program, current and future projects, as well as serve as a public information officer in the event of a wildfire.
Fire Ecologists and Fire Effects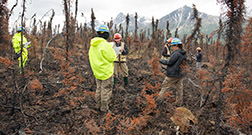 Fire management in the National Park Service is based on science. Fire ecologists and fire effects monitoring crews work together to gather scientific data to assist fire managers with planning, decision-making, and actions. Fire ecologists look at the history of fires that burned on a landscape in the past, as well as data from more recent fires, to determine the cycle of fire in a particular area as well as to help understand fire's role in an ecosystem. Fire effects monitors collect vegetation and fuels data before and after a fire (monitoring). They also record fire behavior and weather conditions throughout the burn. These data help to determine whether wildfires or prescribed fires are meeting management objectives.
Analyzing the changes in fuels and vegetation over time can help provide important information about how fire affects different components of the park ecosystems and what managers can expect under certain conditions in the future. Fire ecologists also help to identify gaps in scientific information and guide research studies to answer questions that will help improve the way fires are managed in the parks. In addition to providing scientific information, fire ecologists and fire effects crews often help fill firefighting and support roles during wildfires and prescribed fires in the parks.
Fire Crews
Fire crews are the backbone of the fire management response effort. Crews are differentiated between Type 1, Type 2, and Type 3 based on experience, leadership, and availability. Each crew consists of 18-20 men and women. A crew boss and three squad bosses supervise the crew's actual work.
Firefighting is hot, dirty work, and crews are often in the field for long periods of time. Sometimes crews may sleep in remote areas, eat pre-packaged food, and are lucky to get a shower every couple of days. On large fires, crews often stay in fire camps where hot meals, showers, and sometimes laundry facilities are available. At times, firefighters may be required to work at night, as temperatures are lower and humidity is higher. This may allow crews to conduct burn out operations and be more effective than during the daytime. Fire crews are available 24 hours per day, 7 days a week during the fire season, which typically lasts six months. Crews normally work a 14-day assignment and receive rest time of 2-4 days between assignments.
All line firefighters at all levels must participate in physical fitness and conditioning programs and pass the Work Capacity Test at the arduous level. This level requires the individual to perform a three-mile hike with a 45-pound pack in 45 minutes.
Hand Crew
Hand crews are on the frontlines using either direct or indirect suppression tactics in responding to wildfires. For smaller fires, direct attack involves cutting fireline around the fire or putting out flames with water or soil. On larger or rapidly moving fires, indirect attack is used. This involves using natural firebreaks such as roads, trails, or streams as the control line and removing the fuels between it and the fire by burning back toward the main fire.
Engine Crew
Engine crews are made up of 3–5 wildland firefighters. A typical wildland fire engine is a heavy-duty off-road vehicle able to carry up to 800 gallons of water. Engines also carry foam to use on wildland fuels. The foam can also be used to protect the exterior walls of a structure. Engine crews are used in initial response to a fire, for patrolling, providing structure protection, and for conducting mop-up activities.
Helitack Crew
Helitack crews are specially trained in the tactical and logistical use of helicopters for fire suppression. These crews can be rapidly deployed and are often the first to respond to a wildland fire. Helitack crews are also trained to "rappel" from a hovering helicopter in areas where the terrain or vegetation does not allow the helicopter to land. A primary job for the crew is to load and unload "slings" of equipment and supplies needed for firefighting.
Wildland Fire Module
Interagency wildland fire modules provide skilled and mobile personnel for wildfire or prescribed fire management. Modules are self-contained and range in size from 4 to 10 persons. They travel, carrying all equipment needed to be self sufficient and accomplish their mission. When the nation is in preparedness level 4 or 5, modules can be used to support the suppression effort.
National Park Service wildland fire modules are located at Buffalo National River, Great Smoky Mountains National Park, Cumberland Gap National Historical Park, the Black Hills, Whiskeytown National Recreation Area, and Saguaro National Park.
National Park Service Hotshot Crews
The most experienced Type 1 crews are known as interagency hotshot crews (IHCs). IHCs are diverse teams of career and temporary agency employees who uphold a tradition of excellence and have solid reputations as multi-skilled professional firefighters. Crews are employed by the USDA Forest Service, Bureau of Land Management, National Park Service, and Bureau of Indian Affairs.
The National Park Service established its interagency hotshot crew program in May 1981 with the creation of three crews. These crews, the first hotshots ever funded by the Department of the Interior, were originally known as Arrowhead 1, 2, and 3 and they were stationed in Arizona, California, and Wyoming. In 1982, the names of the crews changed to Alpine, Arrowhead, and Bison, which reflect elements of the National Park Service emblem. In 1985, due to budget constraints, the Bison Hotshots were disbanded. Today, Rocky Mountain National Park in Colorado is the home unit of the Alpine Hotshots. The Arrowhead Hotshots are located in Sequoia and Kings Canyon National Parks in California.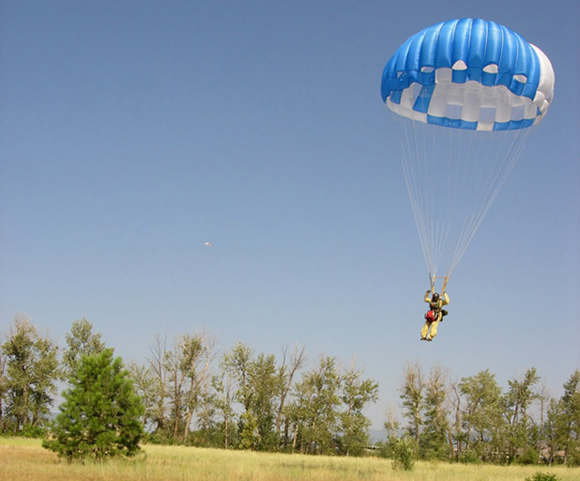 Smokejumpers
The National Park Service does not employ smokejumpers, but at times does use smokejumpers from other agencies. The U.S. Forest Service and Bureau of Land Management are the two agencies that employ smokejumpers.
Last updated: February 13, 2017