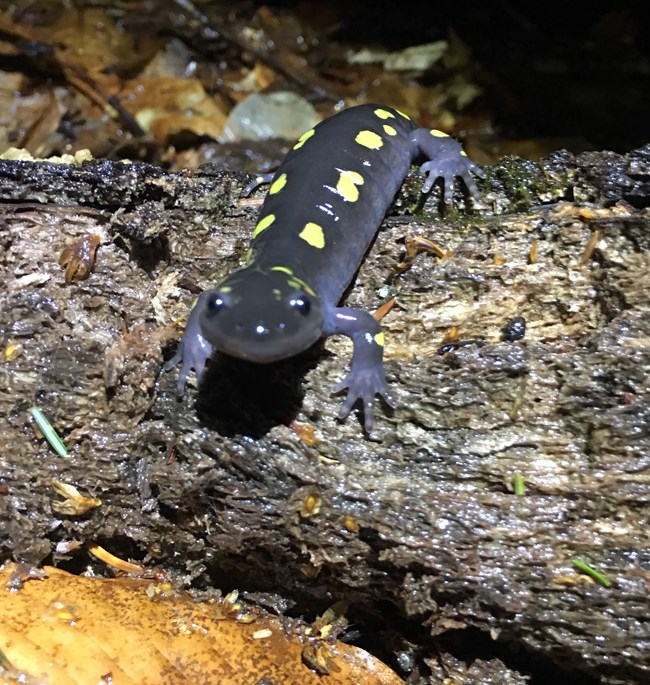 Welcome to the first season of science article for Acadia National Park. These posts will share recent science happening in Acadia National Park. We will point out some new online science content, research permits issued to date (i.e., studies slated to take place this year), and scientific publications that have come out.
If you don't regularly poke around our park website looking for science stories, you may have missed the additions of new content—lots and lots of new stories.
In terms of upcoming research, the field season is just getting started with a few studies taking place focused on waterbirds and spring breeding of amphibians, including an unusual population of salamanders that breed just above the intertidal.

Acadia National Park works with its partners at Schoodic Institute to increase the effectiveness and communication of research in the national park, including the management and issuing of research permits.
Acadia Science Published in Research Journals
For research publications, 2022 has already had some very important papers describing the recovery of Acadia's lakes after acid rain (Fowler et al. 2022), science to inform our new resist-accept-direct approach to managing parks in a changing climate (Crausbay et al. 2022), and how cool spots in Acadia and other parks could become critical biodiversity hotspots as temperatures warm (Nadeau et al. 2022).
Research Permits Issued
Scott Weidensaul, Project SNOWstorm, Alpine wintering ecology of snowy owls in Acadia National Park
Wriley Hodge, College of the Atlantic, Winter and spring waterbird counts around Acadia National Park
Eliza Oldach, University of California, Davis, Managing the Intertidal: Am evaluation of Acadia National Park's community workhop process
Abigail Muscat, University of Maine, A pilot test of a long-term nearshore bird community monitoring program in Acadia National Park
James Pagano, State University of New York as Oswego, Ambient levels of persisten emerging air toxics in Acadia National Park
Julie Kelso, US Environmental Protection Agency, Streamflow duration assessment method
James Lynch, National Park Service - Northeast Region, Elevation monitoring of salt marsh havitats at Acadia National Park
David Yates, Biodiversity Research Institute, Mercury trends in Acadia National Park
Seth Benz, Schoodic Institite, SeaWatch: A citizen science monitoring project of fall seabird migrations off Schoodic Point in Acadia National Park
Seth Benz, Schoodic Institute, Long-term monitoring of fall raptor migrations in Acadia National Park
Catherine Matassa,University of Connecticut, Interidal community assembly and dyanamics:Integrationg broad-scale regional variation in environemntal forcing and bethic-pelagic coupling
Tasman Rosenfield, Yale University, Physiology and population genetics of salt-tolerant subpopulation of spotted salamanders in Acadia National Park
Stephen Ressel, College of the Atlantic, Breeding by the Sea: Coastal vernal pools in Acadia National Park as breeding habitat for spotted salamanders
Jamie Kilgo, National Park Serivce - Water Resources Division, Rapid response strategu for potential toxin exposures from harmful algae blooms in coastal and shoreline areas of national parks
Emma Damm, College of the Atlantic, Investigating spring amphibian migration activity on duck brook road
Seth Benz, Schoodic Institute, Schoodic Institute biodiversity and phenology citizen science observations
Jeremy Deeds, Maine Department of Environmental Protection, Regional lake monitoring network
Christopher Nadeau, University of Connecticut, Does enhancing genetic diversity increase the long-term success of subalpine-plant restorations under climate change
Jeff Licht, University of Massachusetts- Boston, Investigation genetic properties of jack pine located at a sympatry on Cadillac mountain
Alexa Pezzano, NPS, Acadia National Park, Schoodic Education Adventure, Intertidal Exploration
Alexa Pezzano, NPS, Acadia National Park, Schoodic Education Adventure, Soil Exploration
Frederick Bianchi, Worcester Polytechnic Institute, Optimization of the Cadillac Mountain Reservation System
Jill Weiss, State University of New York College of Environmental Science and Forestry, Managing the New Hiker: Characteristics, Perceptions, and Behavior Trends among Trail Users in the Northeast
Chris Petersen, College of The Atlantic, Clam recruitment and predation, and pH in intertidal mudflats
Caitlin Littlefield, Conservation Science Partners, Inc., Coastal spruce-fir dynamics in the face of sea-level rise and salt marsh migration
Laura Sebastianelli, Schoodic Notes: Bird Sounds of Acadia, Bird Sound Recording to Enhance Bird Ecology Research at Acadia National Park
Adam Kozlowski, NPS, Northeast Temperate Network, NPS Northeast Temperate Inventory and Monitoring Network (NETN) Rocky Intertidal Monitoring Program
Bonnie Newsom, University of Maine, Old Collections, New Analyses: Examining Archaeological Materials to Enhance Coastal Site Stewardship in Acadia National Park, Maine
Matthew Duveneck, New England Conservatory, Future Forest Trajectories in Acadia National Park: Identifying Management Priorities
Kathryn Miller, National Park Service, Northeast Temperate Network, Freshwater Wetland Monitoring at Acadia National Park
Contact Us
If you're interested in conducting research in Acadia National Park, visit our
Research Permits
page and contact our
Research Permits
coordinator if you have any questions.
If you're a science news organization and have a question, please visit our
News
page or and contact our
Public Affairs Specialist
.